Examining the potential impact of tourism disruption in LDCs; developing policy recommendations to limit the damage, initiate recovery and build resilience
The economies of tourism-dependent least developed countries (LDCs) are being severely hit by COVID-19 containment measures.
African and Asian LDCs are struggling to mitigate the economic loss, with tropical cyclone Harold further compounding the damage in Pacific LDCs that have relatively large reliance on tourist income.
LDCs have limited capacity to deal with a pandemic of this scale, but the tourism sector can rebound quickly if rehabilitation of the sector is included in relief and resilience-building efforts at national and multilateral levels.
Tourism is a vital source of income in least developed countries (LDCs) around the world, accounting for 9.5% of their GDP and a similar share of employment. With the sector primarily functioning through movement and social interaction, measures introduced by governments to check the spread of coronavirus have caused tourism to come to a grinding halt.
The World Tourism Organization (UNWTO) has stated that tourism is one of the most affected sectors from COVID-19, estimating that in 2020 global international tourist arrivals could decline between 20-30%, from an estimated growth forecast of 3-4% in January 2020. This means a loss of US$30-50 billion in spending by international visitors. For some LDC economies, tourism is likely the worst affected area.
The world's 47 LDCs, home to 900 million and categorised as such by the United Nations based on their structural economic and social challenges and vulnerability to natural disasters, have few weapons to deal with the pandemic. They have not experienced a peak of the outbreak yet; however, as of 5 May 2020, more than 25,000 infections and around 650 deaths have been reported in 47 LDCs, of which around 11,000 infections and around 200 deaths have occurred in 14 Commonwealth LDCs (see Table 1).
For those LDCs that are highly dependent on tourism, COVID-19's impacts on health and livelihoods will be – perhaps – exponential. Of all the LDCs, 14 are members of the Commonwealth, and are among the worst hit due to their relatively large reliance on tourism income and jobs (see Figures 1 and 3).
Table 1: COVID-19 cases in LDCs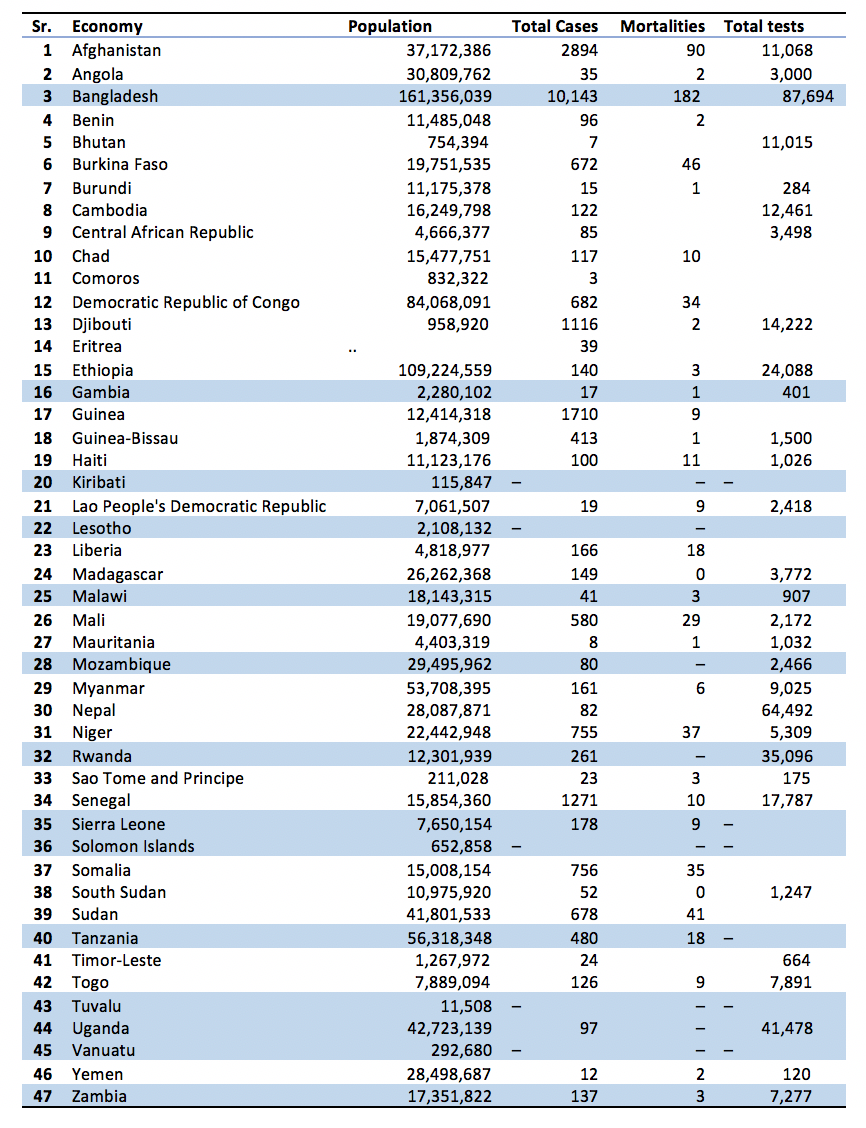 Source: Commonwealth Secretariat calculations (data from the WHO and World Bank)
Note: The highlighted LDCs are members of the Commonwealth
Tourism and LDC economies
For LDCs, tourism is approximately 7% of total exports of goods and services. Although tourism's importance varies across countries, it has been a positive contributor to growth and employment, and in country-specific trade assessments of LDCs done by the Enhanced Integrated Framework (EIF), 45 identified the sector as one with potential.
Importantly, tourism was among the main contributors to enabling Cabo Verde, the Maldives and Samoa to graduate from LDC status. For those LDCs that depend on tourism and are on the path to graduation, that progress could be impaired.
Pacific 
The Pacific countries have significant exposure to air and cruise tourism. Shutting airports and a docking ban has brought those activities in these countries to a standstill.
Tourism is the mainstay of Vanuatu's economy, representing approximately 75% of total exports. Australia and New Zealand (ANZ) Banking Group estimates that Vanuatu's economy could contract by 13.5% this year. With tourism accounting for 34% of GDP and the dramatic drop in tourist arrivals – estimated to fall by 84,000 in 2020 – 21,000 jobs in the small country could be impacted.
Most LDCs in the Pacific introduced early restrictions for tourists originating from high-risk countries. Despite the immediate reaction, the devastation of tropical cyclone Harold has led to the easing of isolation and social distancing rules. Alongside the four Commonwealth LDCs in the Pacific (Vanuatu, Solomon Islands, Kiribati and Tuvalu) three other Commonwealth countries, namely Fiji, Samoa and Tonga, are also facing economic contractions (12%, 18.7% and 8% respectively). In Fiji alone, the arrival of around 602,000 visitors this year is at risk. [1]
Figure 1: Relative importance of tourism to Commonwealth countries' GDP and employment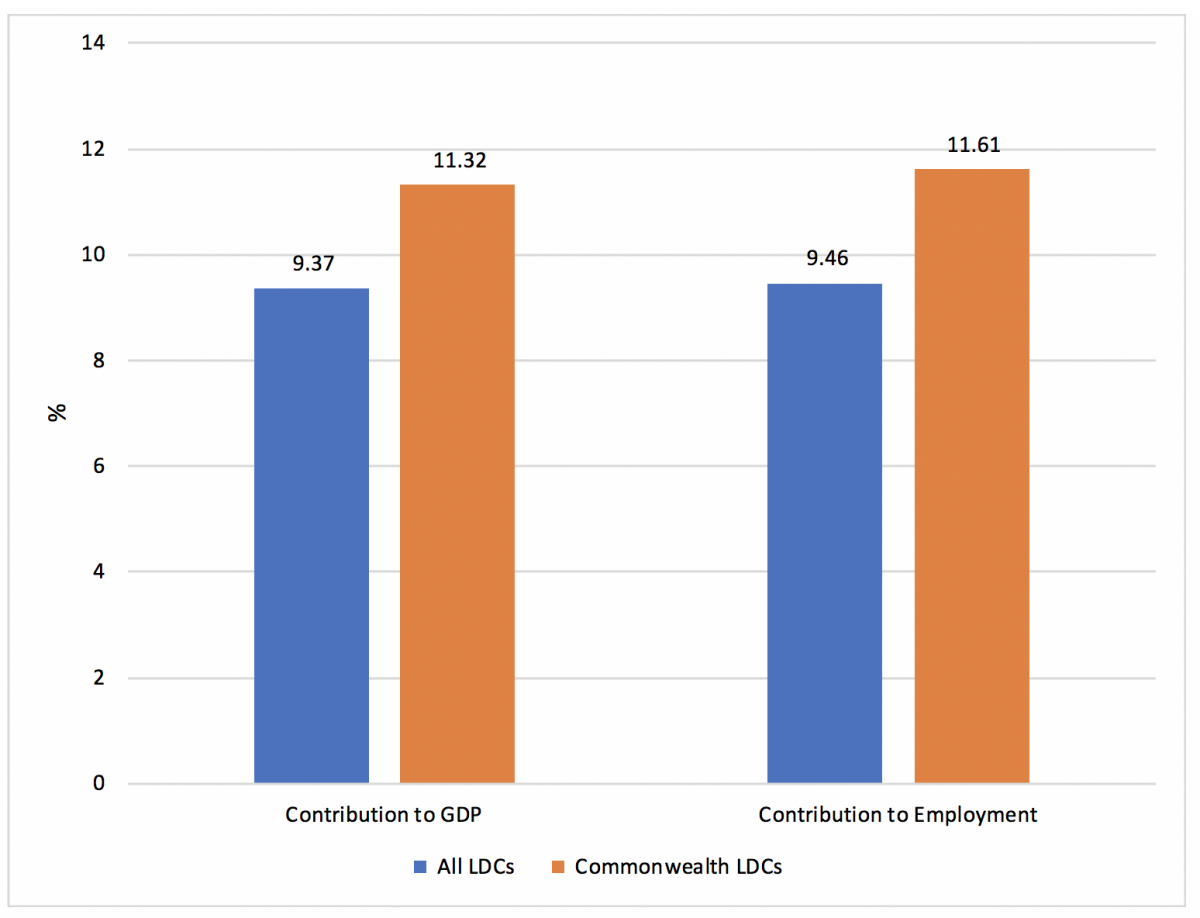 Source: Commonwealth Secretariat (calculated from the WDI, the World Bank)
Africa
The African continent has, at the time of writing, more than 30,000 COVID-19 cases, and the pandemic is exacerbating economic challenges for the 33 LDCs in the region. The continent was just recovering from the aftermath of the deadly Ebola virus, but COVID-19 is now reversing earlier gains.
UN estimates indicate that tourism employs more than a million people in each of these countries: Nigeria, Ethiopia, South Africa, Kenya and Tanzania. And, they estimate that tourism accounts for more than 20% of total employment in the Seychelles, Cabo Verde, São Tomé and Príncipe and Mauritius.
Under the average (realistic) scenario, the tourism and travel sectors in Africa could lose at least US$50 billion and at least two million direct and indirect jobs. IATA estimates the economic contribution of the air transport industry in Africa at US$55.8 billion, supporting 6.2 million jobs. The travel decline is also impacting export industries like cut flowers that depend on cargo freight space on passenger planes.
In recent years, The Gambia lost many tourist arrivals following the collapse of the British travel group Thomas Cook, and Sierra Leone and Uganda lost tourists due to Ebola. COVID-19 has aggravated the situation further in these and other African LDCs. For instance, tourism contributes up to 30% of Rwanda's export earnings with gorilla viewing and trekking being the most significant contributor to the surge of tourism; in response to coronavirus threats, the Government of Uganda has closed its national parks.
Figure 2: Contribution of tourism to employment, by region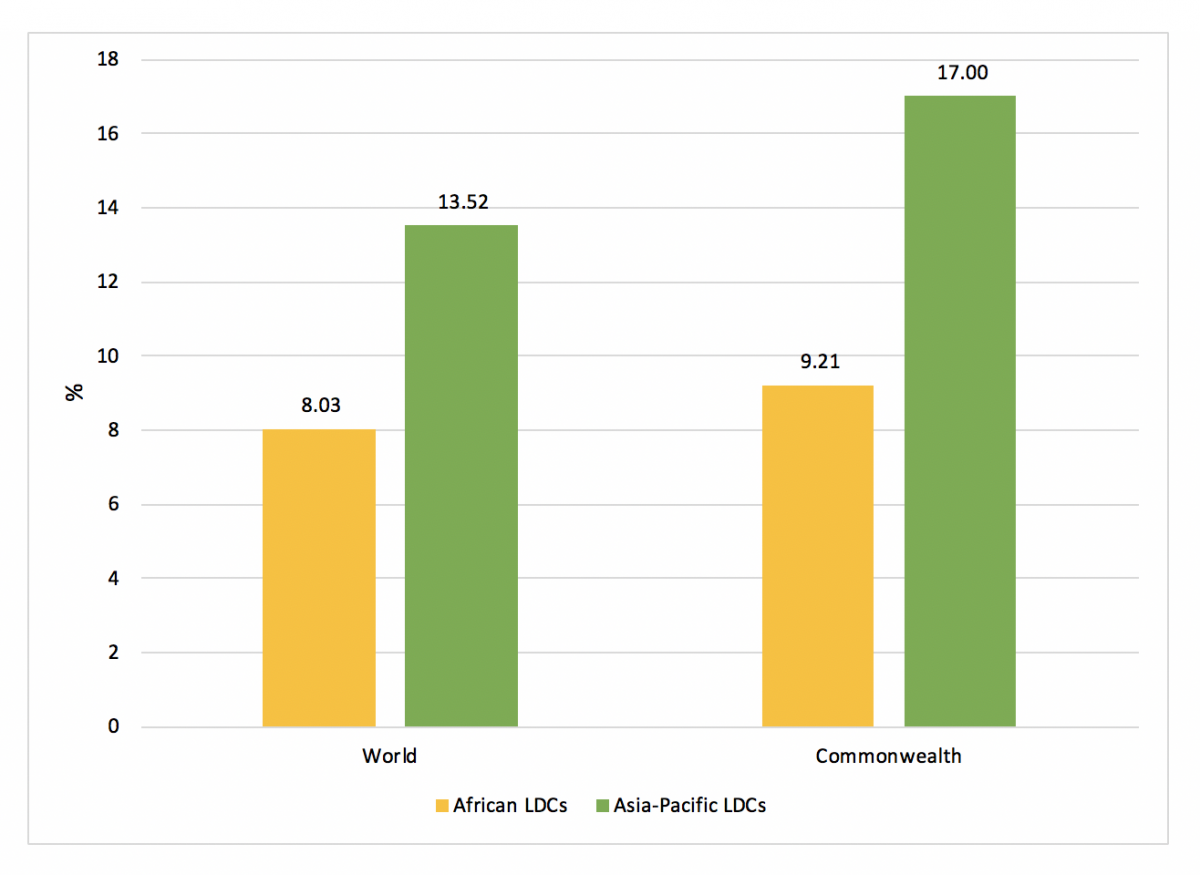 Source: Commonwealth Secretariat (calculated from the WDI, the World Bank)
Asia
The current crisis poses a great challenge to the retention of jobs in the tourism sector in Asia: Of the 50 million jobs that could be lost, around 30 million would be in Asia. Prior to the pandemic, the World Travel and Tourism Council (WTTC) reported that, by 2023, the travel and tourism industry in Bangladesh could directly generate 1,785,000 jobs and support a total of 3,891,000 jobs, or 4.2% of the country's total employment. The pandemic would adversely affect these projections.
In the Maldives, a Commonwealth member that recently graduated from LDC status, tourism is the largest industry, accounting for more than 60% of foreign exchange receipts. The country is conducting aggressive testing (4,200 tests as of 21 April 2020) to mitigate the disruption to business.
Road to recovery
Tourism is a sector with proven capacity to bounce back and multiply recovery to other sectors of LDC economies. However, tourism's recovery is not exclusively dependent on lifting COVID-19-imposed travel bans to encourage a return of visitors; the sector will recover once the communities where people live become safe for inhabitants, which warrants the inclusion of tourism in national and global recovery packages to support the healthcare system.
Understandably, LDC capacity to deal with a pandemic of this scale is modest; therefore, the road to recovery will be longer and more difficult, especially because these economies have a large percentage of poor (40%) but a very small share of global GDP (2%) and trade (1%).
Keeping in view the scale of loss, a super-sized monetary and fiscal policy stimulus package would be required to contain the damage and build broad-based recovery and resilience. Some countries would need a fiscal stimulus of around 10% of GDP, while others may require a higher amount. Monetary stimulus in the shape of cheap central bank loans to affected businesses also need to be explored. Twenty-two LDCs have announced this kind of stimulus package. Additionally, demand of taxes and VAT for small and medium-sized business can be deferred or waived to prevent companies from collapse.
Figure 3: Contribution of tourism to GDP and employment for selected LDCs, by country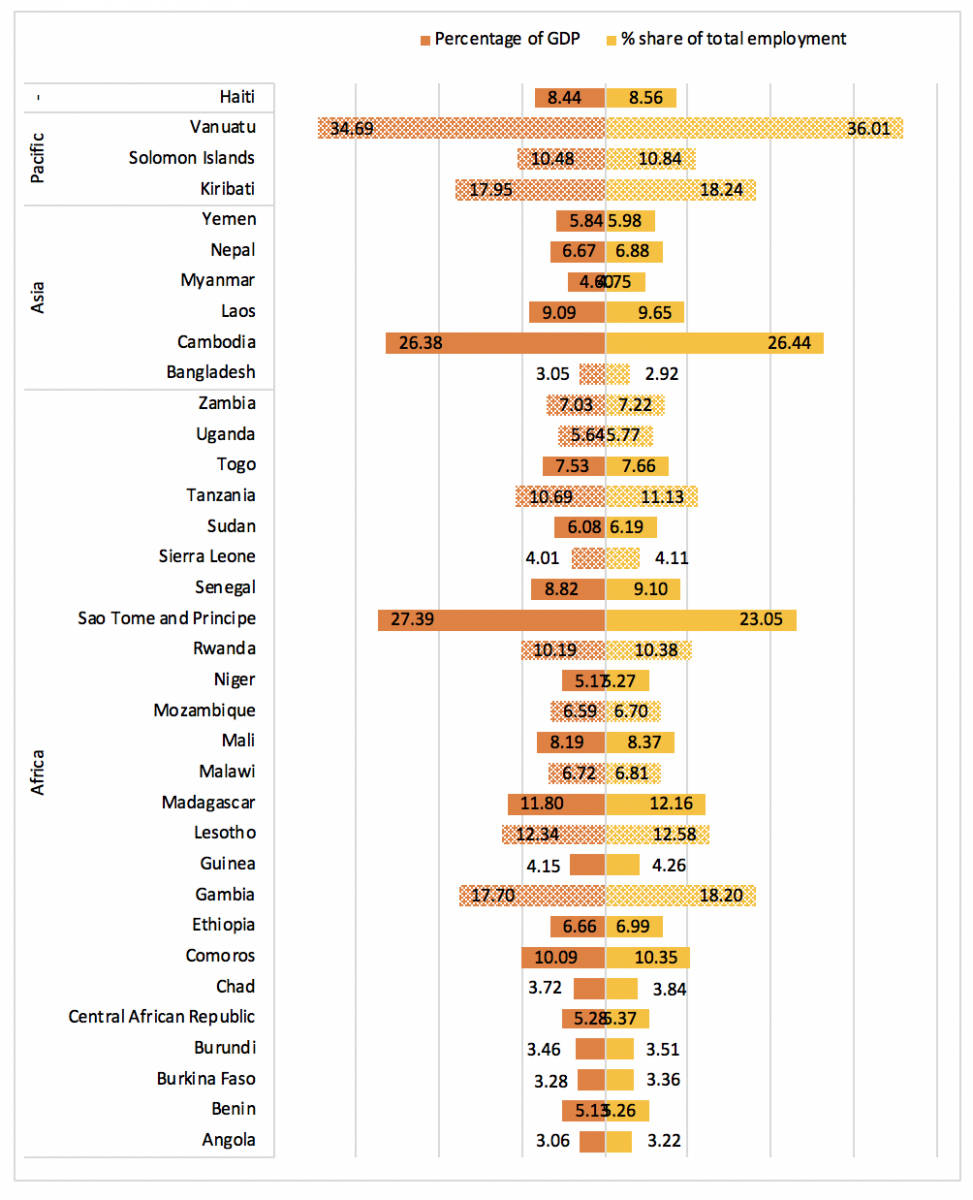 Source: Commonwealth Secretariat (calculated from the WTTC)
Note: data of 12 LDCS (Afghanistan, Bhutan, Democratic Republic of the Congo, Djibouti, Eritrea, Guinea-Bissau, Liberia, Mauritania, Somalia, South Sudan, Timor-Leste and Tuvalu) not available from WTTC (World Travel and Tourism Council).
Governments can approach multilateral development banks like the International Monetary Fund (IMF), the World Bank and regional banks for budgetary support loans and grants. Seven Commonwealth LDCs – ­The Gambia, Malawi, Mozambique, Rwanda, Sierra Leone, Tanzania and Solomon Islands – are eligible for debt services relief for 24 months from the IMF's Catastrophe Containment and Relief Trust. The World Health Organization is providing support to several LDCs to prepare its health response, while The Gambia, Madagascar and Liberia have already received some grants from multilateral institutions.
The Enhanced Integrated Framework (EIF) has ongoing tourism-focused projects with governments totalling US$6.5 million in five countries: Liberia, Comoros, Djibouti, Uganda and Sierra Leone. Born out of the trade assessments that saw potential for tourism there, efforts are continuing to focus on creating stable livelihoods where people need it most.
The resumption of air travel and the return of foreign tourists could take considerable time; governments can, in the meantime, retrain workers and promote domestic tourism as people move to travel once lockdown measures are relaxed. And, now may be just the time to plan for more resilient, sustainable tourism sectors in LDCs.
--------------
[1] These estimates are based on zero tourist arrival in first three months and gradual resumption of tourist activities in the second half of 2020.
--------------------
The research assistance provided by Hilary Enos-Edu, and Ose Ayewoh is greatly acknowledged and appreciated.
Credits
Header image - ©Michael Kowalczyk via Flickr Creative Commons Attribution-ShareAlike 2.0 Generic (CC BY-SA 2.0) https://creativecommons.org/licenses/by-sa/2.0/
Disclaimer
Any views and opinions expressed on Trade for Development News are those of the author(s), and do not necessarily reflect those of EIF.