When agriculture and trade align, change happens for incomes and economies 
Amid raucous and resonating bird song, Alieu Faye gestures to indicate a mass of cashew seedlings neatly organized in separate containers. Standing in his nursery across the river from Banjul in northern Gambia, he explains how this fertile space came to be.
"We used to grow cashews just on the ground without nursing them, so we lost a lot of trees due to bugs eating them… We also used to grow the cashews very close to one another so the yield used to be very poor, because they always competed for the sun," he said.
"But now, when we space them, we have more yields and better quality."
For many of the poorest countries in the world, agriculture is the backbone of the economy, supporting families, small businesses and national commercial concerns. Yet it is this same sector that has the potential for even greater impact, with yields often not optimal, processing abilities poor, market connections lacking and export ability minimal.
For Least Developed Countries (LDCs) rich with arable land and a keen workforce, there is a range of possibilities to improve incomes and spur development via trade in agricultural products. But achieving results requires synchronization of government policy, links across sectors, research-based strategies, investment in farmers like Faye – and financing. Meaning, success is possible, but getting there can be complicated.
GREAT INTEGRATION
For Malawi Ministry of Industry, Trade and Tourism Director of Trade Christina Chatima, becoming globally-competitive means moving from a cultivation focus on corn and tobacco to more valuable products like soya and groundnuts, and shifting from solely exporting raw items to creating higher value processed goods.
In an interview at her office in Lilongwe, she said, "we have realized after negotiating all these markets that we need to enhance our productive capacity. So we are not talking about working in isolation, we are looking at how do we work together in these value chains. There are other important players like the Ministry of Agriculture; the Malawi Investment and Trade Centre helps us find good markets; we are looking at providing a conducive environment for the private sector to do business."
"We all need to work together to achieve the diversification and the industrialization path that the government has decided to undertake."
Embarking on this path, LDCs in Africa like Malawi are trying to align development plans related to agriculture with trade priorities, as well as aligning trade priorities related to agriculture with investments.
"We all need to work together to achieve the diversification and the industrialization path that the government has decided to undertake."
Christina Chatima, Malawi Ministry of Industry, Trade and Tourism Director of Trade
And, when development plans are focused on trade, they need to align with sustainability goals, as they are deeply linked with impoverished populations' dependence on agriculture for food and for income.
In The Gambia, the Government has zeroed in on cashew as part of a holistic strategy that encompasses backing farmers like Faye to improve yields, providing small businesses the processing equipment and certifications they need for export, and identifying infrastructure limitations.
Working with the Enhanced Integrated Framework (EIF) following research that recommended certain areas to target in order to improve the country's trade, the partnership's pilot efforts have resulted in increased incomes for farmers, more exports for small cashew businesses, and a new, state-of-the-art cargo facility at Banjul International Airport.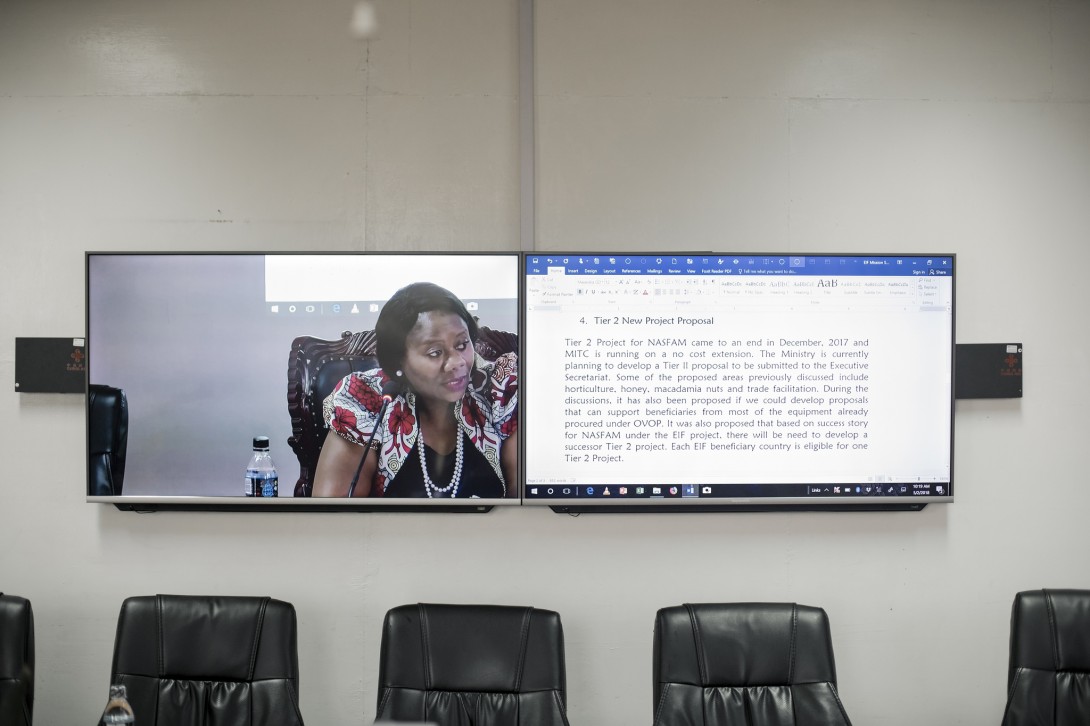 METAMORPHOSIS
There are many hands involved in getting a Gambian cashew to someone's mouth in Switzerland. The airport centre is one step in expediting that.  
Standing amid the sparkling and spacious complex, Banjul International Airlines Deputy Managing Director Saloum Malang said, "the EIF cargo facility has helped to put The Gambia on the world map. First, it gave us the relevant and required security facilities needed. Second, it gave us the operational facilities needed."
For Ebrima Bah, who heads the cashew processing section of Gambia Horticulture Enterprise in Serekunda, the government's agriculture strategy means good jobs for himself and his country's youth, and profits for small businesses like the one he works at. 
"It's a form of transformation," he said of what work could do for unemployed youth – but could just as well have been speaking of what was happening behind him as nuts were being dried, peeled, roasted and packaged.
In Comoros, trade transformation is taking a different turn: citizens have been taking ylang-ylang – one of their valued agricultural products – and distilling the flowers into oil for distribution for centuries. What is changing? A focus on smoothing the transition from harvest to distillation to export, thereby increasing production, and creating luxury home-grown goods with ylang-ylang like lotions, tonics and perfumes that will certainly be sought-after in international markets – if the items could get there.
"I want to do things differently. Just because we've been doing something for hundreds of years doesn't mean we should continue to," said Comoros innovator Ibrahima Sittina Farate amid her hectares of ylang-ylang and the distillery she manages herself. "Why can't we change?"
It is metamorphosis that is happening in the large vats where she heats her home's fragile yellow blooms until they are a powerful essence. And it is metamorphosis that is happening in the country as the trade sector aligns its goals to the country's bounty of ylang-ylang, vanilla and clove: all cash crops with major market muscle.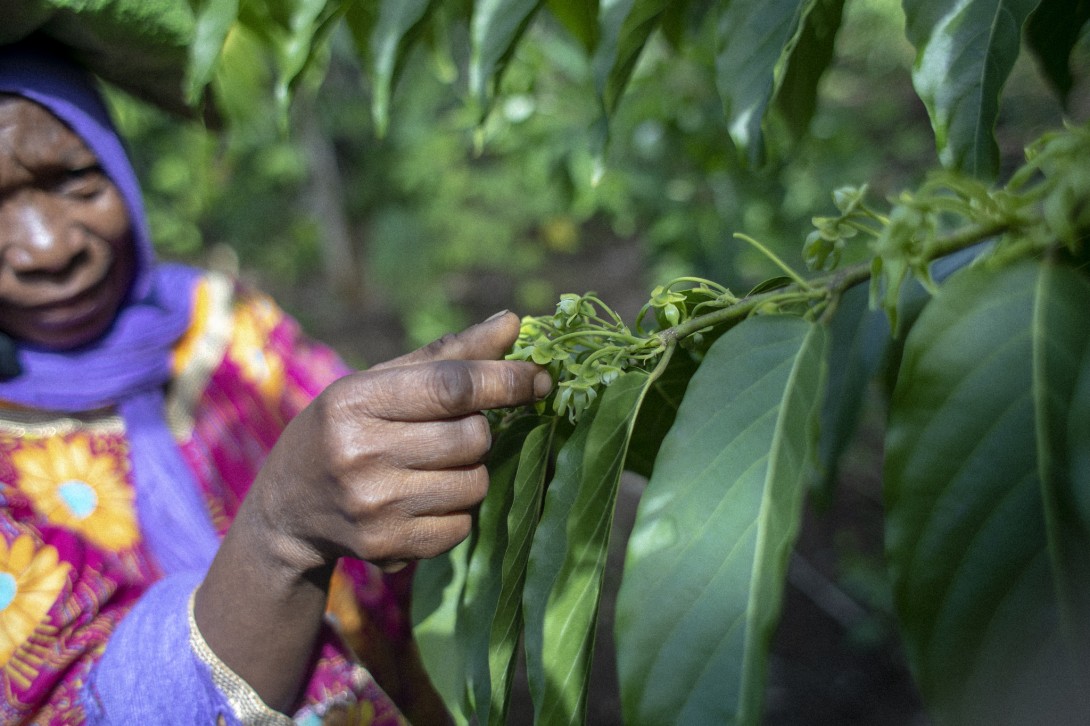 SECOND LIFE
Comoros is in the final stages of joining the World Trade Organization (WTO), a process that started in 2007, and that promises to increase the tiny country's global profile, and hopefully the profile of its artisanal scented items as well.
"I want to do things differently. Just because we've been doing something for hundreds of years doesn't mean we should continue to."
Comoros innovator Ibrahima Sittina Farate
The country's Vice President in Charge of Economy, Energy, Industry, Handicraft, Tourism, Investment, Private Sector and Land Affairs – Djaffar Ahmed Said Hassani –said that the partnership with EIF has been a boon for Comoros' agriculture sector, but that more was needed to support women like Sittina and the thousands of farmers, harvesters, distillers and small business owners that are the majority of the country's labour force.
"Yes, we need aid and support and assistance. And in return we'll also work hard to ensure that our three cash crops will make their mark on the world. Because it's these crops that are directly affecting our economy, and our poorest people," he said.
With two-thirds of EIF projects linked to agriculture and agribusiness, efforts in Malawi, Comoros and The Gambia are just a snapshot of many examples of agriculture and trade integration efforts from policy to person.
Malawian farmer Bester Glandson has seen increased incomes following training and the loan of land to practice on, supported by the Government of Malawi and EIF.
She said, "in our village we didn't know much about the proper way to farm. We were invited to the farmer's association and things improved. We learned how to create ridges to plant and about spacing. We saw yields improve. My life has improved a great deal."
For Gambian cultivator Faye, the metamorphosis he oversees can be both tangible and abstract. "Cashew is so valuable. Cashew has so many uses. You can eat it raw. You can process it. And you can export it – which is valuable. They are delicacies. They have healing properties. And we can use it for intoxication."
Disclaimer
Any views and opinions expressed on Trade for Development News are those of the author(s), and do not necessarily reflect those of EIF.