With cashew prices surging and armed with solid trade policy, the country is looking to boost its farmers and processors
Every few minutes a slight thump would indicate another ripe fruit hitting the ground. Bright orange and smelling sweet and faintly sour, the cashew fruits brimming off Alieu Faye's ten hectares of trees were definitely ready for harvest. 
"Cashew starts from the seed. But you don't pluck it from the tree. You have to let the fruit fall down itself, and when you pick it up, you unpluck it from the fruit," Faye said.
Faye, who is also President of The Gambia Cashew Farmers Association, started farming cashew in 1998, obtaining his first plants from neighboring Guinea-Bissau, where the cashew sector is – shall we say – fruiting.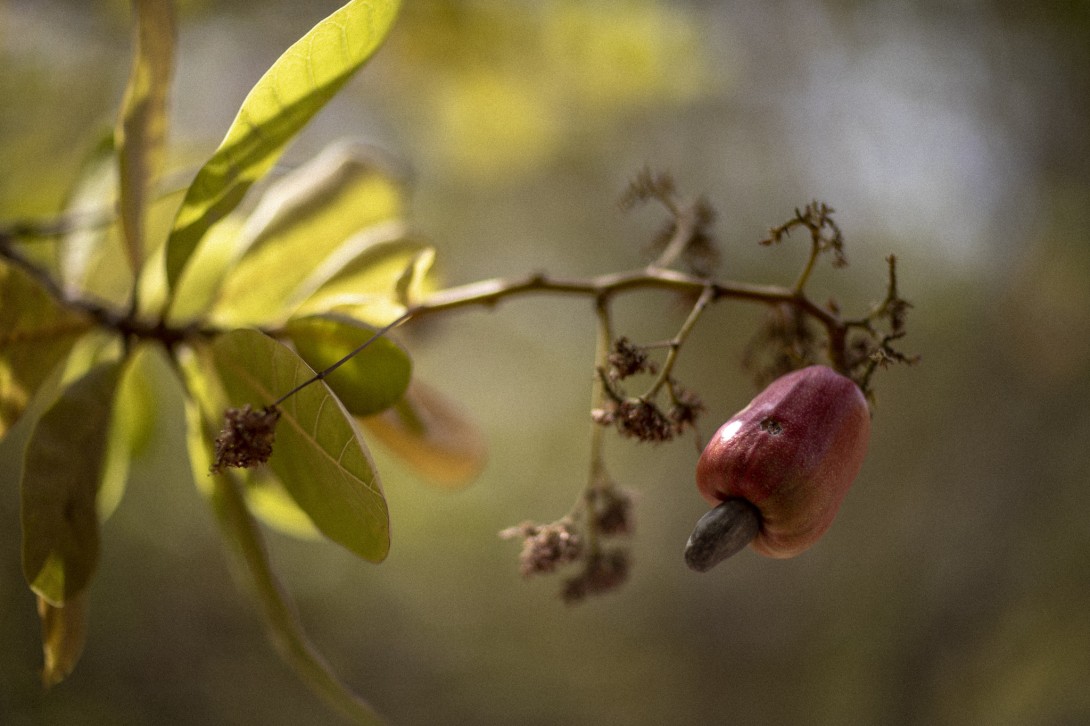 For The Gambia, a small West African country fresh from a period of government instability and looking to alleviate its economic insecurities, cashew is offering one avenue for profit and financial sustainability for its people.
"Thirty percent of The Gambia's GDP is agriculture, and seventy percent of the people are employed in the area of agriculture. Now, there is this effort being made to improve the value of agricultural products apart from the raw products. We are now trying to add value particularly in the area of cashew, sesame and groundnuts," said Isatou Touray, then Minister of Trade, Industry, Regional Integration and Employment, in an interview in Banjul in May 2018.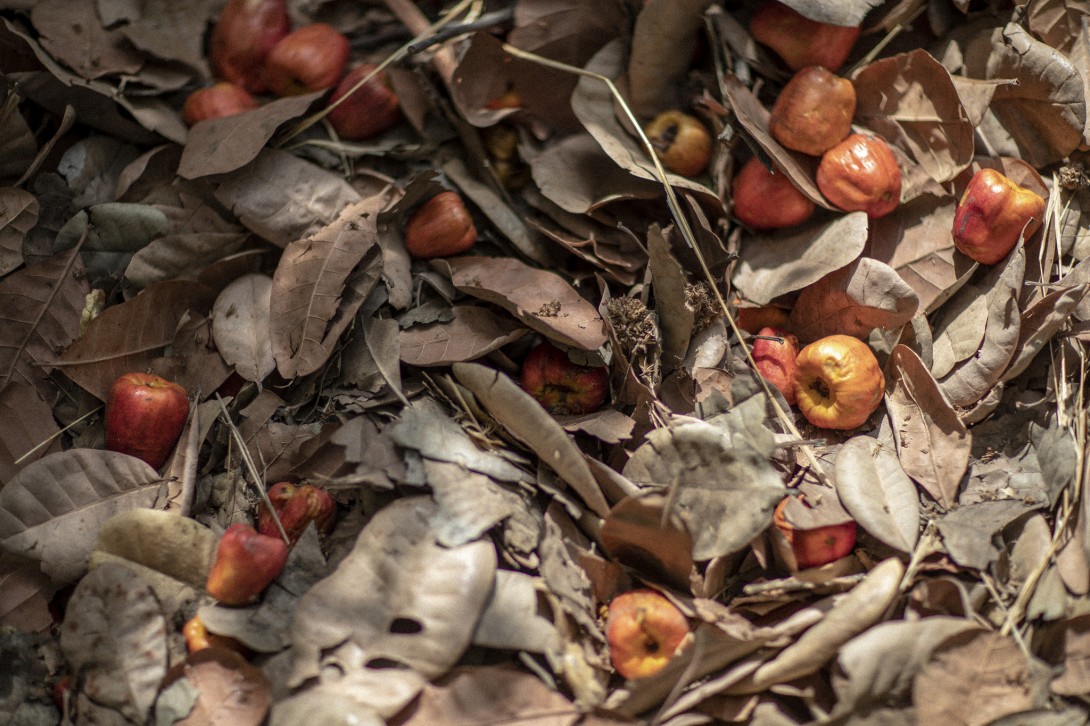 GOING NUTS
Enhanced Integrated Framework (EIF) trade studies of the country in 2007 and 2013 noted cashew's growth prospects and income potential, pending productivity increases and processing improvements, among other recommendations. 
As a result of this analysis, the country has foregrounded the sector in its trade strategies, and on-the-ground efforts include working with farmers to improve yields and quality, and support for processors with machinery and the food standards certification needed for exports.
For Faye, following EIF-supported trainings on planting techniques and farm management, cashew cultivation has brought profits and a sense of security. And, he employs five workers at his farm on the North Bank of the Gambia River.
"I'm retiring very soon to concentrate on cashew farming – so retiring from my actual work and going to the cashew farm means that cashew is very valuable for me," Faye said at the nursery where he now cultivates seedlings before taking them to his nearby farm. "I am making more money now than before the EIF training," he added.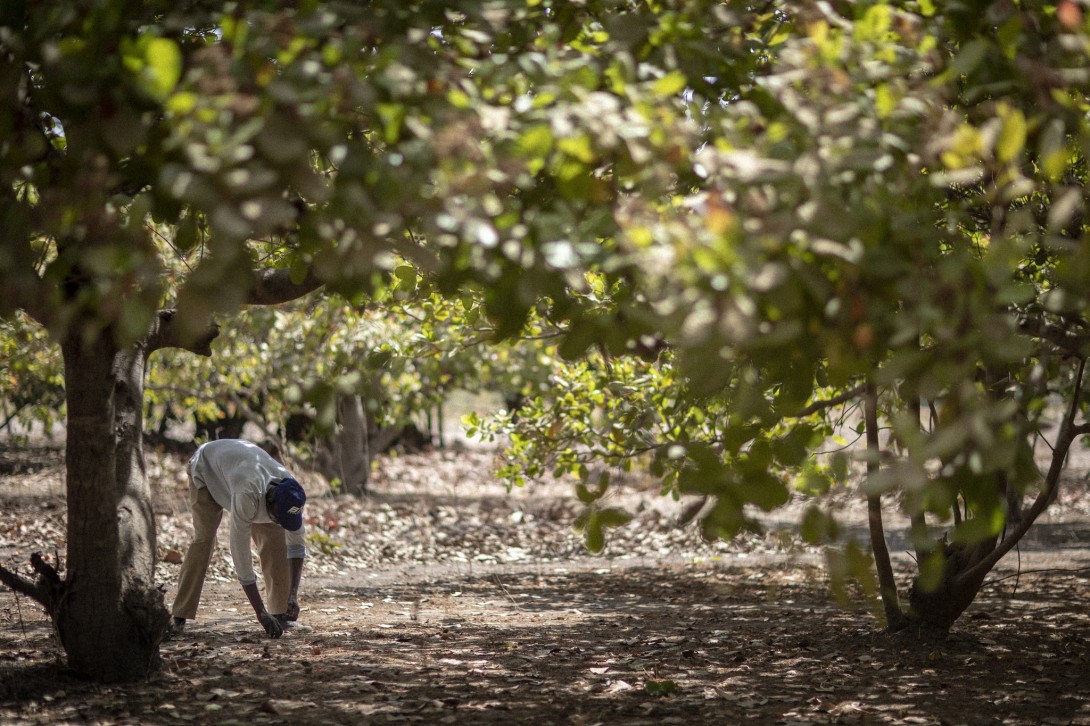 He says his yields have improved, and he has access to processing equipment in the village provided by the Food and Agriculture Organization of the United Nations (FAO). Now, he can sell his cashews processed, which means they garner higher prices.
Faye noted that raw cashews sell for approximately 3,000 dalasi (USD 62) per bag, which holds about 85 kilos. Processed cashews, on the other hand, can sell for between 5,000 and 10,000 dalasi.
CRITICAL MASS
An important step in improving The Gambia's cashew exports is the commercialization of the industry, in part through access to the technology needed to develop export quality nuts.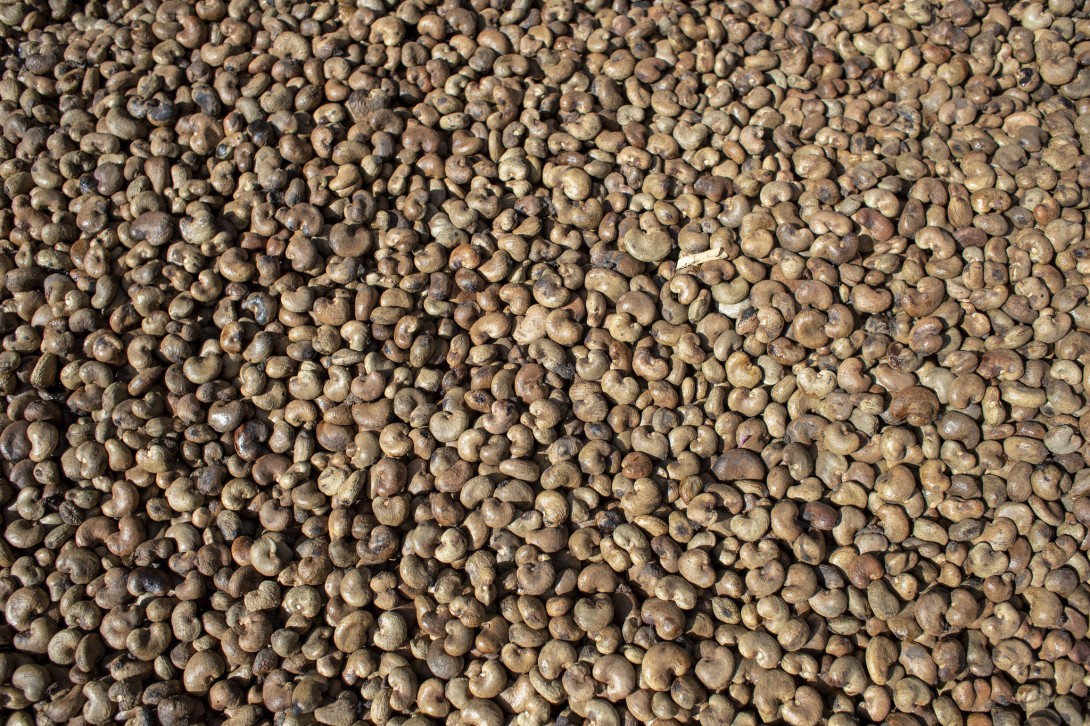 "In cashew production – a crop that is part of the government's diversification of its agriculture – we are trying to see how we bring everybody together in order for us to create that critical mass for export going with the standards, with the quality and all the other processing value chains that are necessary to attract the right markets," Touray said.
Small businesses in the country face challenges in complying with the international food safety and quality standards required to export, and part of EIF and its partners' work in The Gambia addresses this obstacle by supporting the necessary Hazard Analysis and Critical Control Point (HAACP) certifications and providing packaging equipment.
Buba Jawneh manages his family's cashew processing company, which is one of seven local processors that received support to obtain HAACP accreditation.
"Processing capacity here as of now is two tonnes per month, that is 2,000 kilos of kernels of output. The partnership with the EIF has helped a lot, it has improved our processing capacity, and because of the intervention we have customers and there is always a ready market for our products," Jawneh said.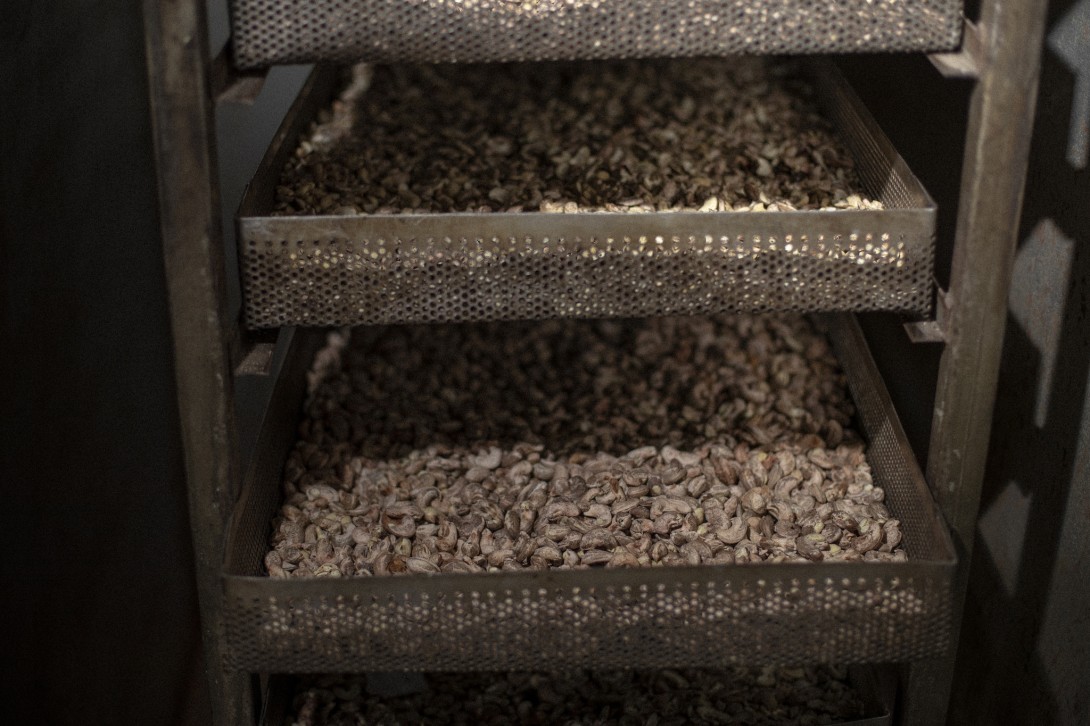 BAKED IN PROFITS 
With orders scheduled ahead of time from countries as far-flung as Switzerland and buyers at the ready, Jawneh said the only thing keeping them from expanding their business is the size of their oven – a key tool in the transformation of a hard cashew seed into a tasty roasted and salted snack.
"In order to expand the business we would like to have partners to increase the processing facility. And we would then like to have finance so that we can secure more cashew nuts from the farmers so we can do year-round cashew processing," he said.
Jawneh & Family Cashew Processing Enterprise can currently process cashews in amounts big enough for cargo flights, but not enough for a cargo container, which is a cheaper way of transporting goods, he explained. With the removal of the oven bottleneck, he said they could compete well on the international market, as there were plenty of raw cashews to be had.
With demand for cashews increasing worldwide amid the nut milk and superfood trends, The Gambia's moves in this industry are strategic and timely.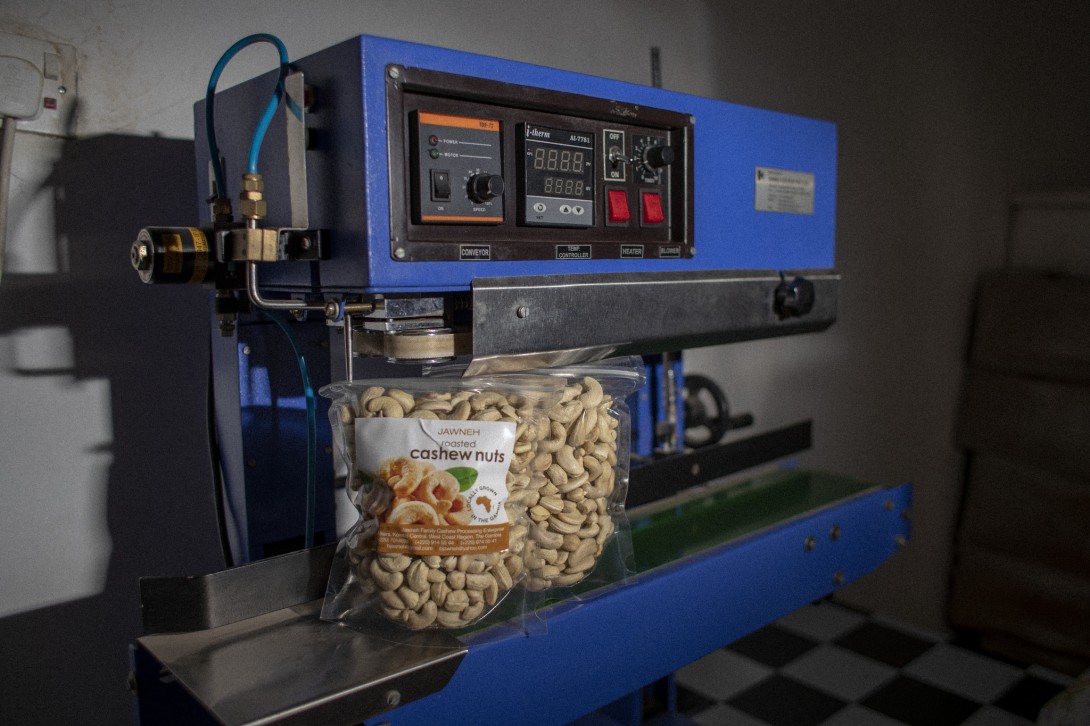 "There is a positive trend that we can see. The statistics reports have shown that the value of domestic exports increased from 606 million to 754 million in 2016 and this trend seems to be continuing," said Touray.
Faye said of the income-generating nut, "Cashew is so valuable. Cashew has so many uses. You can eat it raw. You can process it. And you can export it… I paid my daughter's school fees with the profit.
"It's not only cashew that I'm doing now, it is because of cashew that gave me the courage to go into other things. For example, the nursery is not only cashew as you see, I have lime, I have mangos, I have other types of things. Each of them I sell," he said, amid flocks of birds clamoring behind him.
Disclaimer
Any views and opinions expressed on Trade for Development News are those of the author(s), and do not necessarily reflect those of EIF.