In The Gambia, family-owned cashew processors are primed for expansion
Unshelled cashews lay drying in the sun on a whitewashed patio. In an adjacent room, two women worked quietly, carefully stripping shelled nuts of their skin with razor blades. A few dozen meters away in a shadowed space, a shelling machine slick with oil sat idle.
The Jawneh & Family Cashew Enterprise outside Banjul in The Gambia employs more than 40, and is managed by Buba Jawneh, one of the founder's sons.
That sunny afternoon there was a lull in activity as the business waited for another delivery of raw cashews from nearby farms.
"Our processing capacity here is two tonnes per month, that is 2,000 kilograms of kernels of output," Jawneh said, with cashew shells clacking together behind him. Kernels are shelled, prepped and roasted cashews.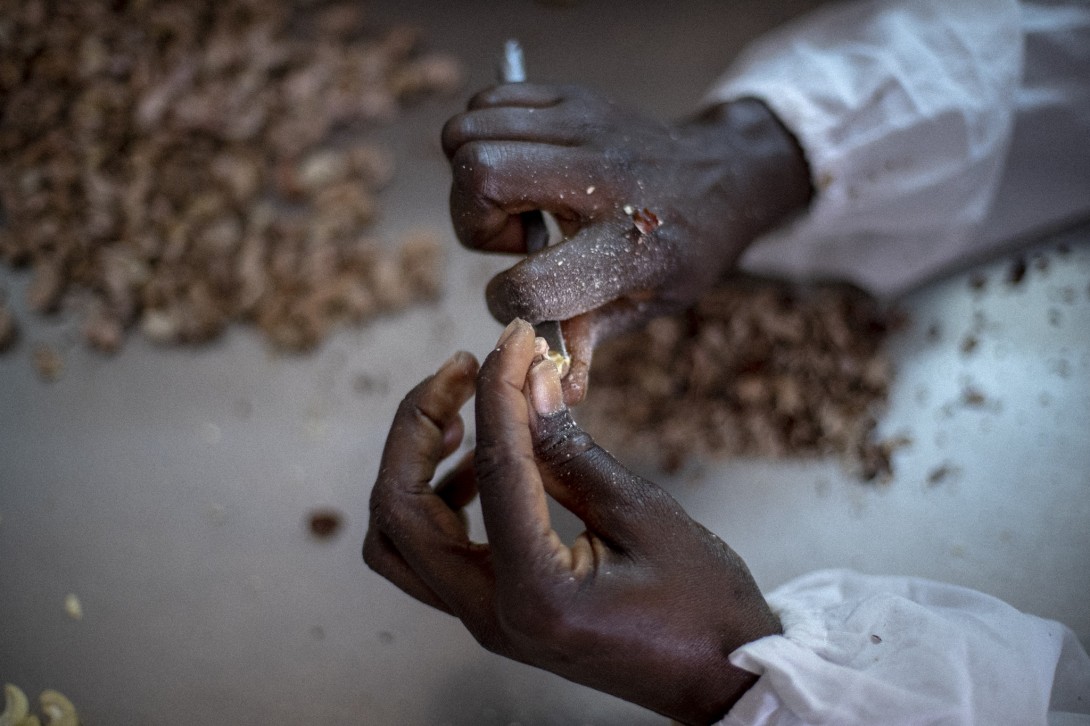 But, with a smile, Jawneh says they can do more.
"We started in 2008. My father had a cashew plantation and realized that most of the cashews were being exported for processing, and then brought back to The Gambia. So he started the business," he said.
Now they have an oven to steam the cashews so the shell cracks readily and the nuts stay crispy, and to dry and roast shelled nuts.
But, armed with this equipment and a great product, they can't keep up with demand.
"We are selling to the supermarkets in The Gambia. The demand is high and most of the buyers they come and buy everything. What we are processing as of now is already sold," Jawneh said, gesturing to the drying cashews.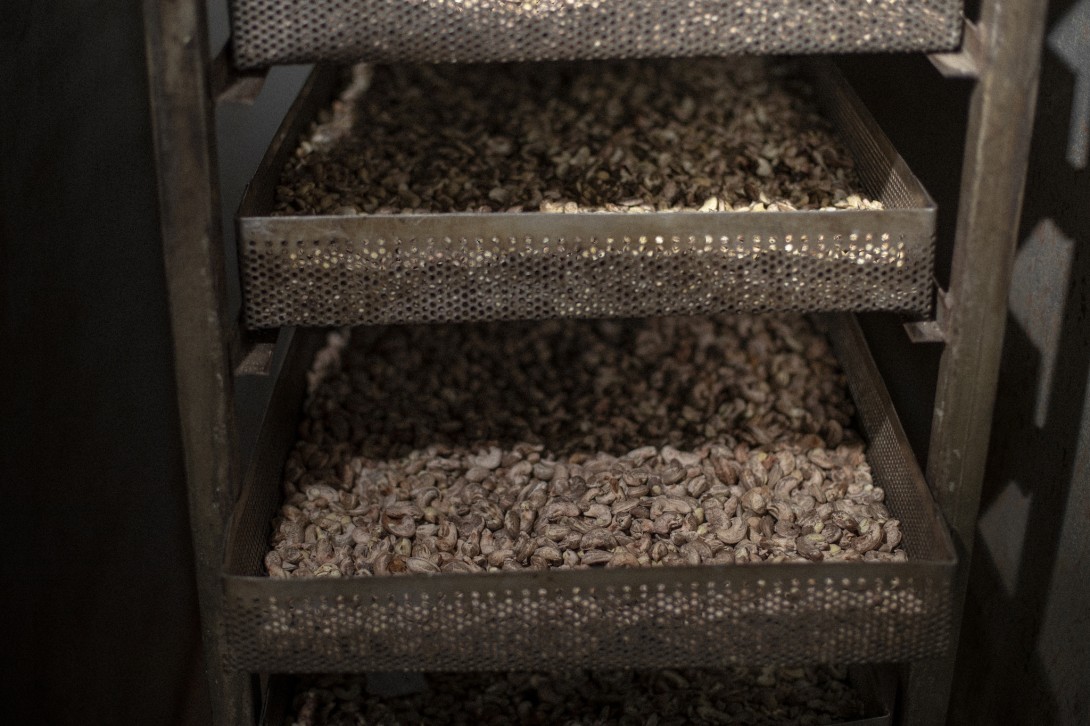 He added, "we now have the shelling machine and the capacity is higher than the oven — that is the bottleneck. So we work according to the size of the oven. The oven must dry everything."
Following trade analysis that found great potential in cashews for The Gambia, the national government is targeting the sector. The research found export constraints such as poor post-harvest infrastructure and lack of proper processing and packaging, as well as challenges for small businesses to comply with international food safety and quality standards.
Jawneh's family business is just one of those receiving support from EIF's partnership with The Gambia to boost its trade, in the form training to ensure they attend to food safety requirements and receive certification to export, and packaging equipment so their cashews are sleekly bagged and labelled. Four other companies obtained the food safety certification, and two others received a suite of packaging and labelling items.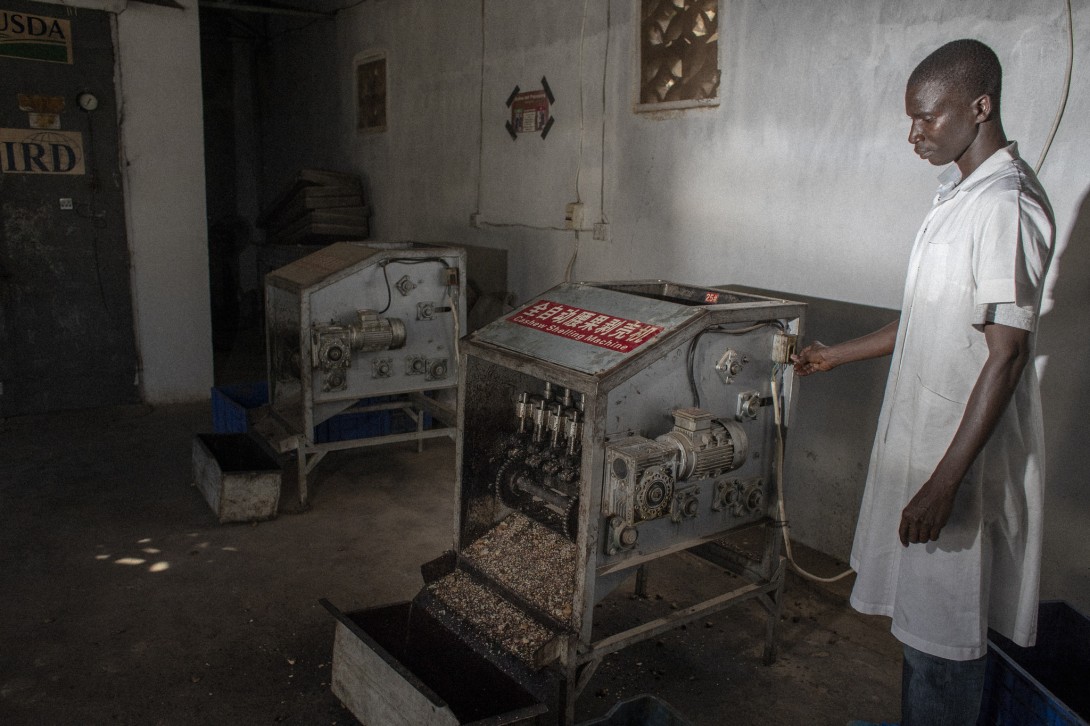 For Jawneh and his family, this is no small turn, for they are now fielding orders from Switzerland and want to be able to take on more customers.
"We would like to have the support for more equipment and more finance to buy raw cashew nuts from the farmers. The lack of equipment means we can't export enough for a shipping container, instead we have to ship via cargo flights, which are expensive."
For the moment they are making the most of what they do have, as is his small, modest country. But with an added business boost, both his humble enterprise and The Gambia's fortunes could see more benefits from trends in trade.
With his father sitting behind him, Jawneh said, "As part of the cashew industry in The Gambia I'm very proud, and I am very happy because it creates employment and it generates income, and also it increases the socioeconomic development of the country."
Credits
Header image - ©Enhanced Integrated Framework
Disclaimer
Any views and opinions expressed on Trade for Development News are those of the author(s), and do not necessarily reflect those of EIF.