In January 2020, the spread of an infectious disease appeared at the very bottom of the World Economic Forum's top ten high-impact risks. A year later, it had risen to number one. As of mid-February 2021, COVID-19 had infected nearly 110 million people, and caused close to 1.5 million deaths and US$28 trillion in economic losses. 
The pandemic – and associated containment measures put in place by governments worldwide – has affected virtually all companies. Still, the smaller the company, the stronger the harms felt. A business survey conducted by the International Trade Center[1] across regions and sectors shows that the crisis strongly affected two out of three small companies – defined as those with less than 20 employees. Compare this with the findings for companies with 100 or more employees, with less than half (43%) strongly affected.
More concerning is the survey's findings that one out of four (26%) micro firms were at risk of shutting down permanently within three months, compared to one in ten (9%) large firms.
The impact of the crisis also differed across sectors. Survey results show that COVID-19 affected companies in the services sector more severely, particularly those in accommodation and food services, followed by non-food manufacturing, retail and wholesale, and travel and transport. Micro, small and medium-sized enterprises (MSMEs) are overrepresented in most of these sectors.
These findings unfortunately do not come as a surprise. Small businesses are often cash strapped, hold less inventory and have smaller and less diversified networks of suppliers, among other constraints. Absorbing revenue shortfalls, making up for input shortages or tapping into new suppliers is thus more challenging.
Despite the bleak picture, ITC found that many MSMEs displayed a high degree of resilience. This is probably because MSMEs face an 'innovate or die' dilemma, unlike large firms that have resources to sustain them through crises.
What was learned from these MSMEs can and should inform the development of strategies to make firms more resilient to any future crisis.
Competitive firms are more resilient
ITC interviewed 770 firms in Benin, Cambodia and the Philippines before and after COVID-19 hit.[2] We found that firms that had characteristics that made them more competitive in good times made them more resilient in bad times. In other words, good performance on certain competitiveness indicators prior to the crisis strengthened firm resilience during COVID-19.
The first set of factors has to do with the strength of the firm's management and operational processes, including inventory management, record keeping and ownership of a bank account. These factors made MSMEs more resilient by ensuring that business procedures were robust to disruption, as good practices build shock absorbers into the structure of the firm.
Good financial management, for example, has proved especially important during the COVID‑19 crisis, which, for many, has entailed a sharp but temporary decline in revenue. Survey results from Benin show that 28% of interviewed companies with weak financial management practices are at risk of permanent closure. This compares to 16% of companies with good financial management practices that were at risk of permanent closure.
Deep and diversified relations with other actors in the business ecosystem also strengthened the resilience of firms. A firm's connections to business support organizations and its peers, buyers and suppliers allowed it to obtain and share information critical to its short-term viability, including on government programs and other forms of support.  
In Cambodia, for example, companies connected with at least one business support organization prior to the crisis found it easier to access information and benefits from government COVID-19 assistance programmes.
Figure 1: Connected firms in Cambodia found it easier to access COVID-19 information and benefits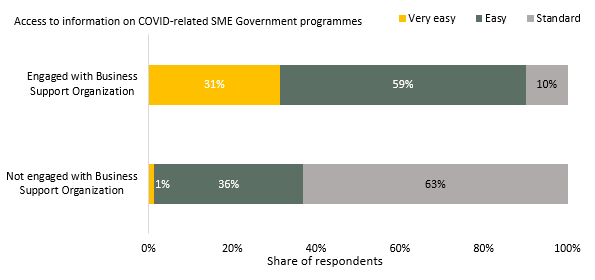 Note: Respondents were asked: 'How easy is it to access information and benefits from government COVID-related SME assistance programmes?' Response options ranged from 1 (very easy) to 5 (very difficult). These responses are then linked with the question: 'Are you actively engaged with any of the following types of institutions? (i) Trade promotion organizations (ii) Investment promotion organizations (iii) Chambers of commerce (iv) Sector associations.'
Source: ITC calculation based on SME Competitiveness data collected in Cambodia.
Diversification of the firm's supplier base also proved critical. Diversifying sourcing and designing smarter and stronger value chains were some of the main lessons of the crisis. This is confirmed by data from Cambodia, where firms with more diversified suppliers had better survival prospects during the COVID-19 crisis. The survey shows that firms dependent on one supplier were more likely to anticipate closing in the near future than those with more suppliers.
Finally, MSMEs with a record of innovative, adaptive behaviour had the tools they needed to respond quickly and successfully when the pandemic hit. These characteristics are spurred, for instance, by investing in research and development, hiring employees whose skills match the firm's needs, and accessing finance to support innovation.
Indeed, more innovative firms in Cambodia have tended to be less affected by the economic challenges associated with the pandemic. Survey evidence showed that highly innovative firms were more likely than less innovative firms to customize or create new products to cope with the COVID-19 crisis.[3]
Investing in competitiveness today for resilience tomorrow
Research suggests that firms that do the right things during a crisis are both resilient in the short term and more profitable in the years that follow. Companies large and small, all around the world, have faced and will continue to face myriad disruptions. Managers often keep an eye on anticipated risks, making plans and preparing their businesses. Yet, companies, particularly the smallest ones, can never prepare for everything and must choose where to invest scarce resources.
An efficient and effective risk management strategy should build on the lessons learnt during the pandemic. By looking into the pre-shock factors that allowed firms to fare better during the crisis, one can start building an action plan to strengthen business resilience – for today's challenges and those that are bound to emerge.
-------------------------
Want to know more? ITC's flagship SME Competitiveness Outlook report, to be launched on MSME Day on 27 June, will expand on the lessons learned from the pandemic. Further, it will examine how and to what extent these lessons can inform our efforts to reduce the impact of future shocks, particularly climate change, on MSMEs. Finally, it will provide a roadmap for fostering competitive, resilient and sustainable small businesses.
 This piece is part of a dedicated series to spur dialogue, conversations, and debate alongside the WTO's Aid for Trade Stocktaking event taking place from 23 to 25 March. The piece responds to the event's Theme 4: GVCs, supply side capacity and the pandemic and Theme 5: Promoting recovery among MSMEs and in
the tourism sector.
[1] On 21 April 2020 the International Trade Centre (ITC) launched a worldwide online survey to assess the economic impact of COVID-19 on global businesses. Figures in these paragraphs are based on data collected between 21 April and 24 August 2020 from 6,476 companies in 138 countries. The sample is spread across regions (Africa, Americas, Asia, Europe and Oceania), sectors (primary, manufacturing and services) and size of firm (micro, small, medium and large) and includes both exporting and non-exporting firms.
[2] In 2019, ITC collaborated with institutions in three countries – Benin, Cambodia and the Philippines – to conduct an in-depth assessment of the competitiveness of small and medium-sized enterprises, using its SME Competitiveness Survey. In mid-2020, a follow-up survey was carried out in the three countries, allowing for an assessment of whether and to what extent certain pre-crisis competitiveness factors influenced business outcomes during the crisis. The result is a dataset of 770 responses to both the ITC SME Competitiveness and the COVID-19 Business Impact Survey in the three countries. Data were collected between July 2019 and August 2020.
[3] ITC, "Promoting SME Competitiveness in Cambodia" (Geneva: International Trade Centre, 2021). Forthcoming.
Disclaimer
Any views and opinions expressed on Trade for Development News are those of the author(s), and do not necessarily reflect those of EIF.