WTO's Aid for Trade programme putting a spotlight on LDCs
Aid for Trade means building the capacities of developing countries to trade. At the 6th WTO Ministerial Conference in 2006, Ministers agreed that, "Aid for Trade should aim to help developing countries, particularly LDCs, to build the supply-side capacity and trade-related infrastructure that they need to assist them to implement and benefit from WTO Agreements and more broadly to expand their trade."
The WTO Aid for Trade Initiative was established to operationalize Aid for Trade. Activities are carried out through a Work Programme that is developed every two years, and LDCs have been a special focus of the Initiative since its launch.
The process of developing the 2018-2019 Aid for Trade Work Programme generated a vibrant debate. The result is an Aid for Trade agenda that emphasizes economic diversification and economic empowerment objectives for youth, women and micro, small and medium-sized enterprises (MSMEs).
By 2020, approximately 1.1 billion youth are expected to enter the workforce. Unemployment is a continuing challenge, and action is required to ensure that developing countries are well equipped to generate employment amid a changing global economy and with the growing influence of digital technology. 
The Work Programme seeks to analyse how industrialization, structural transformation and economic diversification can help developing countries, and particularly LDCs benefit from the changing trade landscape, with the ultimate objective of eliminating extreme poverty. Key activities include thematic workshops and events, the Aid for Trade monitoring and evaluation exercise and the 2019 Aid for Trade Global Review. There was also a call to review what the Aid for Trade Initiative has achieved since its launch in 2006.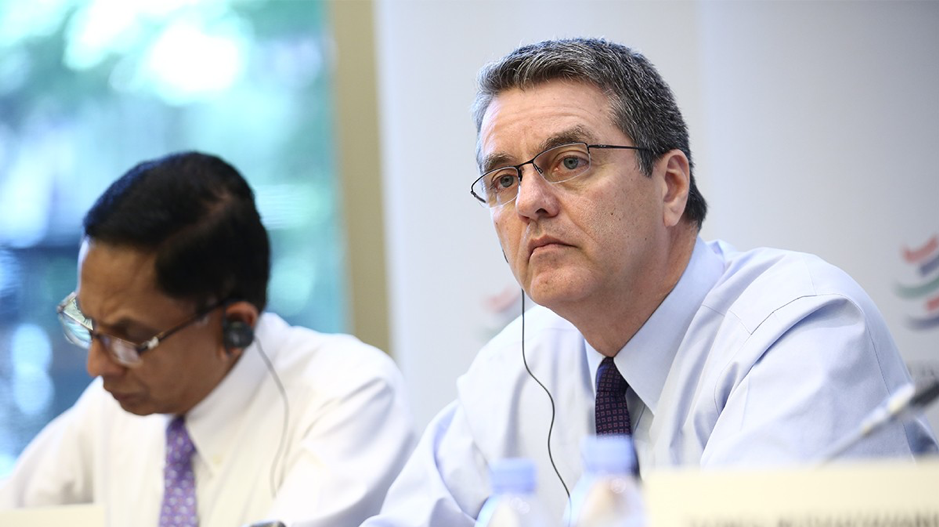 "We need to maintain our focus on LDCs, and aim at a world with no LDCs. But to get there we must be ever more ready to innovate and prioritise support on the basis of the specific needs expressed."
WTO Director General Roberto Azevêdo, 2017 Aid for Trade Global Review
Showing results 
The 2019 Aid for Trade Global Review will be the centrepiece of the Work Programme, and will be underpinned by a monitoring and evaluation exercise. Past monitoring exercises tracked Aid for Trade flows, surveyed stakeholders on their experience and collected case stories on best practices and lessons learned. 
Empirical studies have provided evidence that Aid for Trade is broadly correlated with increases in trade. For example, the 2015 Aid for Trade at a Glance report found that USD 1 invested in Aid for Trade is associated with an increase of nearly USD 8 of exports from all developing countries. And USD 1 of aid for LDCs amounts to USD 20 in new exports.
The Enhanced Integrated Framework (EIF) is a good example of Aid for Trade in action. It is the only Aid for Trade programme dedicated to LDCs, and has been instrumental in mainstreaming LDC trade into national development frameworks while building their trade capacities. Surveys have found that trade is being mainstreamed, dialogue between partners and donors is improving, and LDCs are better able to articulate their trade priorities.
Key figures from 2017 Aid for Trade survey responses from 28 LDCs  
96.4% said trade/Aid for Trade priorities included in national development strategy
Trade facilitation (74%), export diversification (70%) and transport infrastructure (63%) are the top three Aid for Trade priorities for LDCs
100% LDCs say Aid for Trade contributes to the SDGs, particularly Goal 9 on Industry, Innovation and Infrastructure (96%)
Source: 2017 Aid for Trade monitoring exercise
It is therefore no surprise that Aid for Trade is explicitly included in  the Addis Ababa Action Agenda  as well as  SDG 8, calling to "increase aid-for-trade support for developing countries, in particular Least Developed Countries, including through the Enhanced Integrated Framework"   
The latest figures show that since the launch of the Initiative in 2006, Aid for Trade flows have almost doubled, going from USD 19.3 billion to USD 38.8 billion in 2016. A total of USD 91 billion was disbursed to LDCs, accounting for a little over a quarter of total Aid for Trade flows.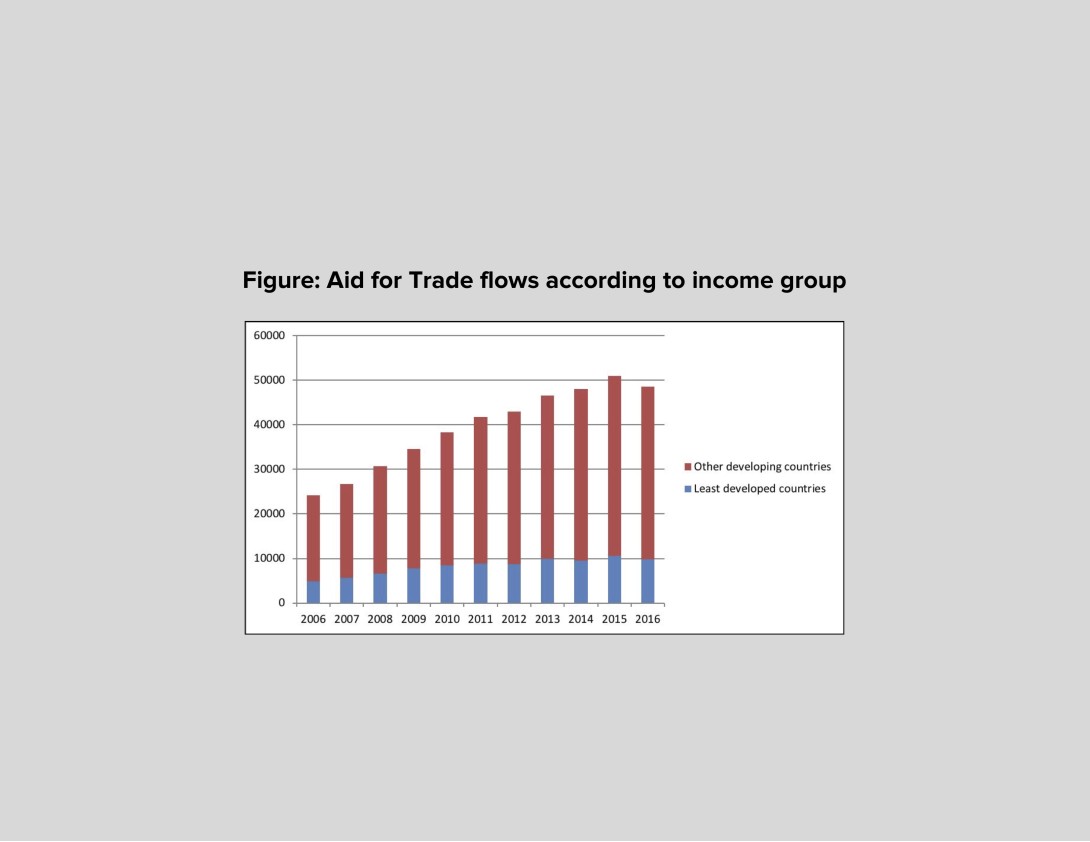 Why achievements matter
It has been 12 years since the start of the Aid for Trade Initiative. Governments have prioritized trade in their national development frameworks and Aid for Trade flows have increased. But despite these achievements, the global share of LDCs' trade remains low.
The way we trade is changing and Aid for Trade needs to stay up-to-date with the evolving landscape to ensure that countries are not left behind. An additional action in the new Work Programme is a review of Aid for Trade achievements. For the first time, stakeholders will have an opportunity to take a look back at what has been achieved, as well as look ahead. This will be an important step towards ensuring the Aid for Trade Initiative remains fit for purpose in the fast-changing global trading landscape. 
Previous work programmes and reviews addressed issues that were at the forefront of global trade and development discourse. Moving ahead, one thing is certain – the Aid for Trade Initiative will continue to prioritize the needs of LDCs and their active participation in Aid for Trade achievements will be crucial in ensuring their needs are adequately reflected.
Themes of previous Aid for Trade Global Reviews
Click here for the 2018-2019 Aid for Trade Work Programme
Disclaimer
Any views and opinions expressed on Trade for Development News are those of the author(s), and do not necessarily reflect those of EIF.