Recently launched ecommerce training program and portal will help hundreds of women entrepreneurs in South Asian LDCs become part of regional and global supply chains.
It's 1am and Thinley Yangzom has 60 boxes of teabags to pack. Her special superfood blend of ginger and the rare cordyceps fungus had been a hit with the tourists staying at her mother's riverside farmhouse in Paro, Bhutan, but finding time to tend to her new business venture while rearing her eight-month-old son had not been easy.
"My business needs to be able to fit around my responsibilities as a mother, as a daughter and as a wife. This often meant that I was working on my business once everyone else had gone to bed," said Yangzom.
As her business – Bhutan Super Food and Herbs – grew she saw an opportunity to sell her products to customers outside of Bhutan. But for this she would need an online store, and some help to set it up.
"While I am an IT graduate, setting up an online business is more complicated than just creating a website," she said.
"The founder of a women's entrepreneur association invited me to a workshop where other women entrepreneurs like me would be taught the basics of ecommerce. I was excited to learn more about this modern approach to business."
And so, on a cold winter's day in February, Yangzom arrived at the City Hotel in Bhutan's capital ready for a two-day deep dive into the emerging world of ecommerce. Run by the South and South-West Asia Office of the United Nations Economic and Social Commission for Asia and the Pacific (UNESCAP), New Delhi with support from the Enhanced Integrated Framework (EIF), the national inception workshops are the first step in building an ecommerce training program for women entrepreneurs across South Asia.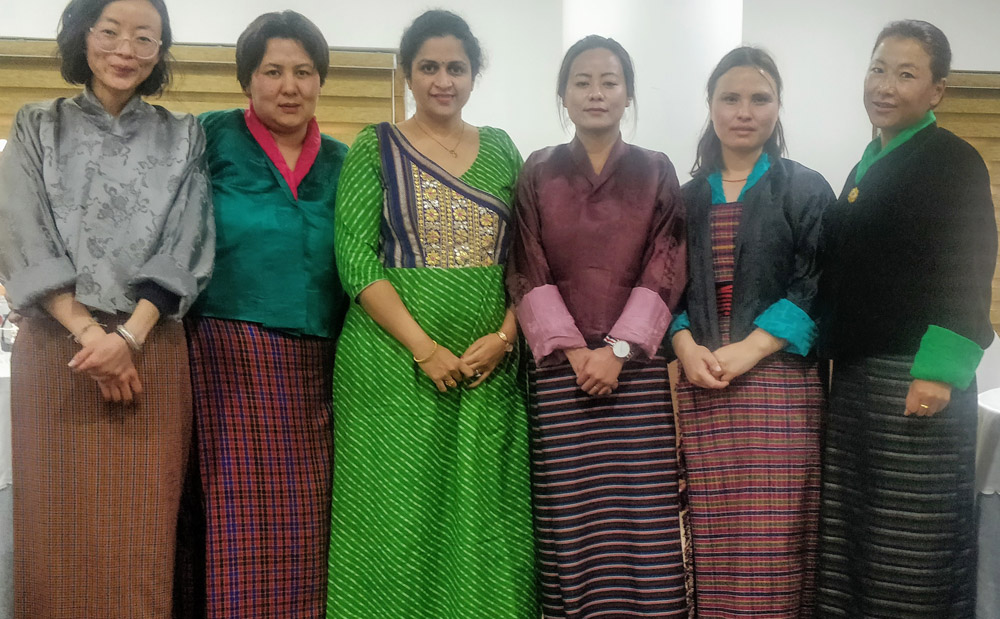 Bhutan workshop participants 
"We have run workshops in Nepal, Bangladesh and Bhutan so far with the aim of bringing together policymakers, women entrepreneurs, experts, industry and civil society to better understand and recognize each country's challenges inimplementing ecommerce," said Rajan Sudesh Ratna, Economic Affairs Officer at UNESCAP, New Delhi.
"These insights have helped us to develop tailor-made ecommerce training programs and an ecommerce portal that will assist at least 100 women entrepreneurs across Bhutan, Nepal, Bangladesh and Afghanistan to sell their goods and services online and become part of regional and global supply chains."
Covering the basics
Most women in South Asia are employed in informal sectors, where they lack job security and a permanent income. When it comes to entrepreneurship, there is often a lack of societal support for women working outside their home.
"Ecommerce makes flexible working arrangements possible. It's a powerful tool for empowering South Asian women entrepreneurs socially and economically," said Deepali Gotadke, a consultant to the UNESCAP program who was the first ecommerce entrepreneur in her area of North Karnataka, India.
During the national inception workshops, Gotadke ran a session on digital marketing and ecommerce and found many of the women entrepreneurs lacked the technical skills needed to expand their businesses.
"As a result, we decided to offer an introductory course and manual for women entrepreneurs in our program that will cover the basics of ecommerce, social media and digital marketing," she said.
While a taste of the course to come, Gotadke's marketing session has already inspired Yangzom to think more strategically about using social media to market her products.
"We are thinking about getting famous people to review our products, which will help us reach a wider customer base," she said.
Restrictive regulations
Workshop participants also identified policies that are making it challenging for ecommerce to flourish.
"From not allowing online transactions in international currencies, to central bank laws that make it hard for suppliers to offer refunds, it's clear that some regulatory changes are also needed," said Ratna.
"We are encouraging these changes to take place by initiating dialogues with policy makers in parallel with the capacity building program," he said.
One of the ways that UNESCAP is working around such regulatory challenges is to develop an ecommerce portal that will host the online shops of women entrepreneurs participating in the programme.
"The portal will assist women with digitising and cataloguing their goods and services, it will provide a single payment gateway and it will give their businesses international exposure. This is all the more important for women entrepreneurs in this hour of crisis due to COVID-19," Ratna said.
Outside world is waiting
Godatke sees lots of international potential, with the "outside world waiting for the handmade items these women have to offer."
"When we open the portal to international markets, I would expect to see their business revenue doubling within 2-3 years," she said.
After a year, the program will then assess the performance of the women and devise an advanced training course.
"We've had a strong response so far, with 150 women entrepreneurs already registered to take part in the program," Ratna said.
Due to the COVID-19 lockdown and restrictions, the online course and virtual trainings for the women entrepreneurs will start in July 2020.
While COVID-19 has significantly slowed down Bhutan's tourism industry and therefore Yangzom's key customers, she sees ecommerce as a key way for her business to recover.
"Being able to sell online will not only make it possible for me to reach international customers, but it will also make my products more affordable for local people," she said.
"With the support provided by this program, it will be faster and easier to grow my business than if I was to do it alone."
Credits
Header image of a beekeeping site supported by EIF in the Amhara region, Ethiopia - ©Fernando Castro/EIF
Disclaimer
Any views and opinions expressed on Trade for Development News are those of the author(s), and do not necessarily reflect those of EIF.