Improving economic opportunities and prospects for the world's least developed countries remains a key global challenge
Originally published on Devex
At June's Global Forum on Inclusive Trade for Least Developed Countries, governments, businesses, NGOs, and researchers gathered at the World Trade Organization's headquarters in Geneva to discuss the importance of trade to the economic and social development of least developed countries — and the unique challenges they face.
The conference, hosted by the Enhanced Integrated Framework, had more than 300 participants, including representatives from more than 40 LDCs. With LDCs leading much of the discussion, the two-day conference provided an opportunity to highlight their commitment to global trade while sharing ideas and experiences on strategies for strong footing in the global trade environment.
The EU has updated its 'aid for trade' strategy with a new communication designed to take into account the changed political, trade, and development landscape since 2007. Here are the key changes.
At the opening of the conference on June 13, Executive Director of Oshun Partnership Sarah Beeching explained that despite the boom of trade and global connections there was a growing divide between rich and poor countries. And this reduced opportunities for LDCs to respond to development challenges within their borders.
Director General of WTO Roberto Azevêdo, said in a pre-recorded video speech, that there were three challenges that needed to be addressed: Create a strong and robust trading system that supports and includes access to global markets for LDCs; ensure LDCs have the capacity to access trading systems; and increase advocacy for LDCs in what is a complex global trade environment.
With global tensions rising and threats emerging to trading systems, smaller economies tend to lose the most.
"So we must work to resolve these tensions and we have to do it as quickly as we can," Azevêdo said.
The two days set in motion ideas to address challenges and better position LDCs in the global economy. Here are some of the key strategies and solutions being discussed.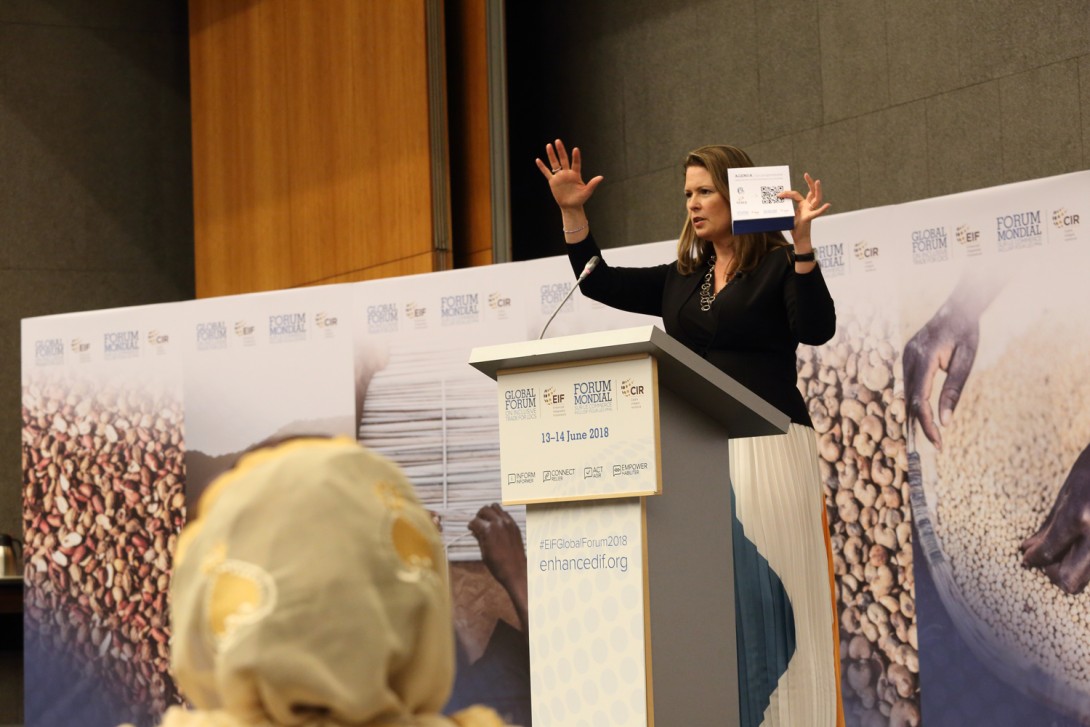 FOR LDCS, TRADE NEEDS TO INCLUDE AND SUPPORT SMALL ENTERPRISES
Daniela Zehentner-Capell, head of the trade policy division with Germany's Federal Ministry for Economic Cooperation and Development, pointed to research from the World Bank, saying trade is important for economic growth and social development.
To improve economic development in LDCs, a focus needs to be on growing sole traders and small enterprises.
"SMEs account for 80 percent of jobs around the world," Zehentner-Capell said. "And boosting their economic income improves further jobs and economic development."
Laila Said-Hassane, from the Comoros Mutual Savings and Credit, explained that her country's trade is linked to imported products as they have low capacity to produce goods domestically.
"We need SMEs to help us compete," she said, adding that there needs to be policies and practices in place that encourage entrepreneurs.
A part of growing SMEs and a focus for LDCs, needs to be increasing opportunities for women and youth — including improved access to finances.
Said-Hassane explained that within Comoros, developing a network of microfinancing to provide broader access to underprivileged people in her country is a priority. She said in her experience, 55 percent of borrowers were women, who tended to reimburse their loans at higher rates than men. But young people, she said, hadn't been represented as equally. It is an issue her organization is trying to address by attracting young people to their mutual funds through grants, scholarships, and a range of other initiatives.
Fatoumata Jallow-Tambajang, vice president of The Gambia, echoed calls for policies in LDCs that are inclusive of women in particular, calling them the movers and shakers of trade.
But more remains to be done to understand and address the challenges that small enterprises, women entrepreneurs, and young businesses face in becoming part of the global trade community.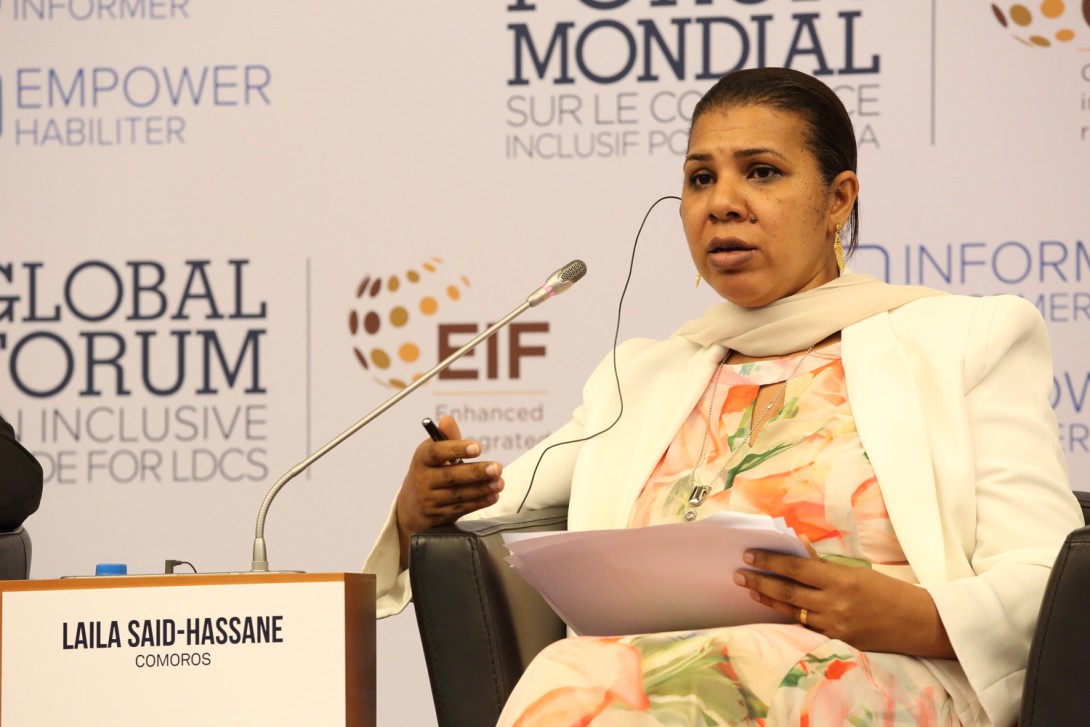 ENHANCE TRAINING OPTIONS AND OPPORTUNITIES
Encouraging the growth of SMEs also means looking at improving training options.
Malawi's minister for industry, trade, and tourism, Henry Amon Robin Mussa, said that his country is focusing on supporting the development of youth through specific training programs that will improve opportunities for the country to develop and compete internationally. This includes building ICT skills and capability.
But vocational training, he said, is also an important education option that can increase the disposable incomes available to women and youth — and provide them with greater opportunities to flex their entrepreneurial muscles.
According to Kule Galma, youth representative with the WTO Accessions China Programme, the aim of education should be to encourage young and inquiring minds.
"African minds are so enterprising," she said.
But they need and deserve to be educated for the 21st century to compete in the changing global market, with vocation training to provide support for those who aren't suited to formal education.
But in developing training options, CEO of the Academy of Culinary Arts Cambodia Pierre Tami said that solutions need to understand the needs and drivers of the private sector.
"Vocational training programs should not sit alone in silos," he said. "Whatever vocational training is set up — that it goes with the country's economy."
And that means understanding the market and that the private sector wants to hire competent workers, Tami said.
Within LDCs, it is important to build the capacity of the nation, to give employers choice and confidence that investing in that nation will result in quality outputs.
There are other options for training to consider, aside from formalized courses, according to Said-Hassane. Training opportunities, she suggested, could also include "purchasing skills from outside."
By encouraging industry leaders to work within LDCs, leaders can share their skills and knowledge to improve opportunities for LDCs in the global economy by producing the best quality products and services.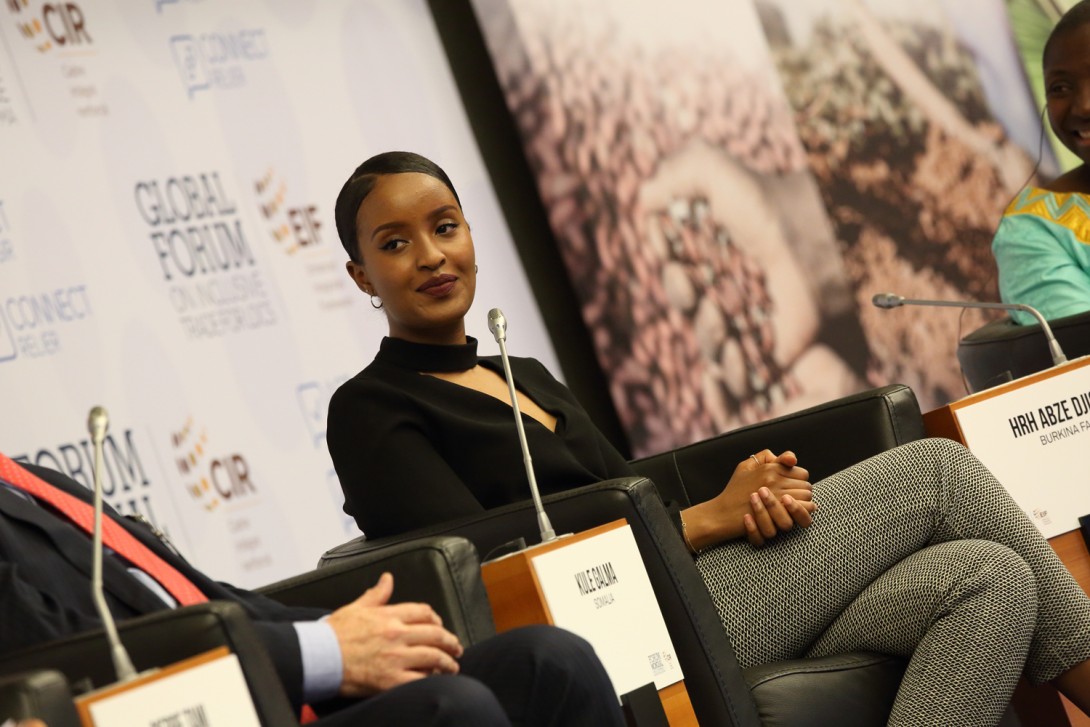 EXPANDING OPPORTUNITIES FOR AGRIBUSINESS
Improving opportunities for agricultural-based businesses to grow is important to the growth of value chains in Africa, Asia, and the Pacific, according to speakers. This is a potential area to investigate for LDCs trade opportunities.
Within the Enhanced Integrated Framework itself, coordinator Simon Hess explained that agribusiness "cuts to the heart" of their work.
"Two-thirds of projects submitted for support from EIF are linked to agribusiness," he said. "And it is an area that provides opportunities for LDCs."
Getting smart about what can be grown and where, is an important consideration — historic data and land use mapping could identify what products are best to grow and where to build a sustainable economy.
Robert Skidmore, chief of sector and enterprise competitiveness at the International Trade Centre, said there were opportunities for LDCs to tackle more parts of the supply chain process — including a greater role in transport and the distribution network.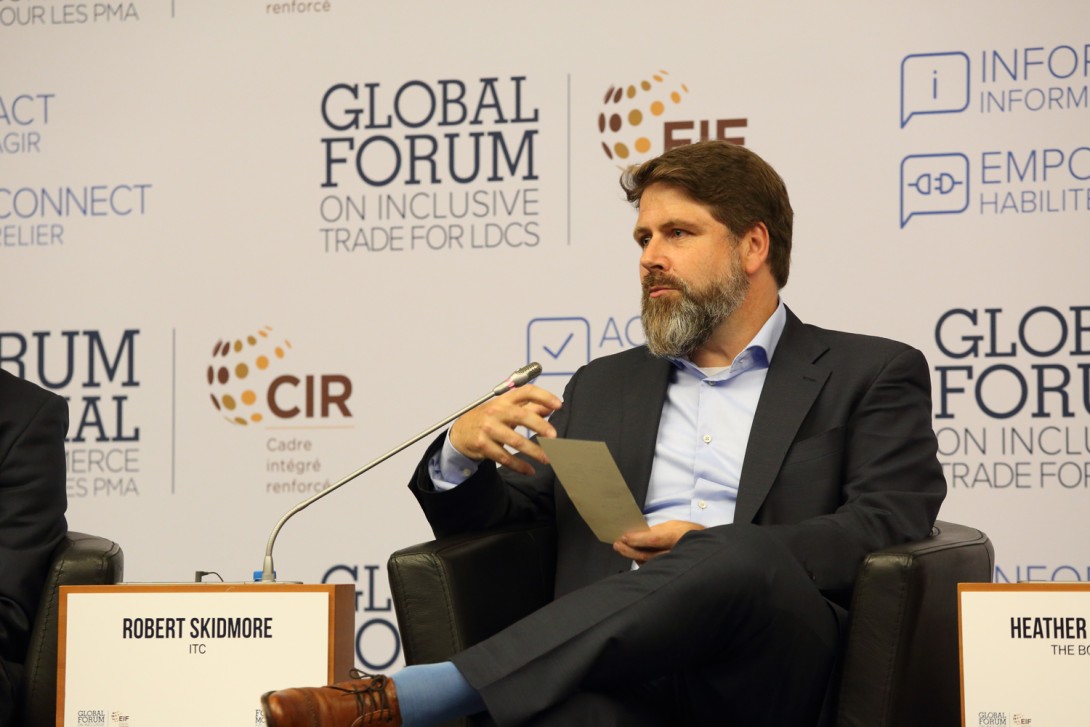 EVERYONE HAS A ROLE TO PLAY
It was clear from the conference that the sustainability of trade solutions supporting the economic development of LDCs requires a variety of players and support.
Jallow-Tambajang said it is important for partners worldwide to help LDCs progress, but it is just as important for the governments of LDCs to show a real commitment to trade to progress domestic development.
Malawi's Mussa provided examples of action, saying his country has been making political progress in committing to trade as an important avenue to reducing poverty and had introduced a range of strategies to support development, including facilitating a better cross-border trade regime. But he also sees an important role in creating local buy-in and markets for locally produced products and services.
Donors would also have an important role moving forward.
Julian Braithwaite, United Kingdom ambassador and permanent representative to WTO, explained that the U.K. will continue to support improved access to markets for LDCs.
For Academy of Culinary Arts Cambodia's Tami, the private sector should not be overlooked as an important partner to ensure the work of government and donors supports the needs and demand on the ground.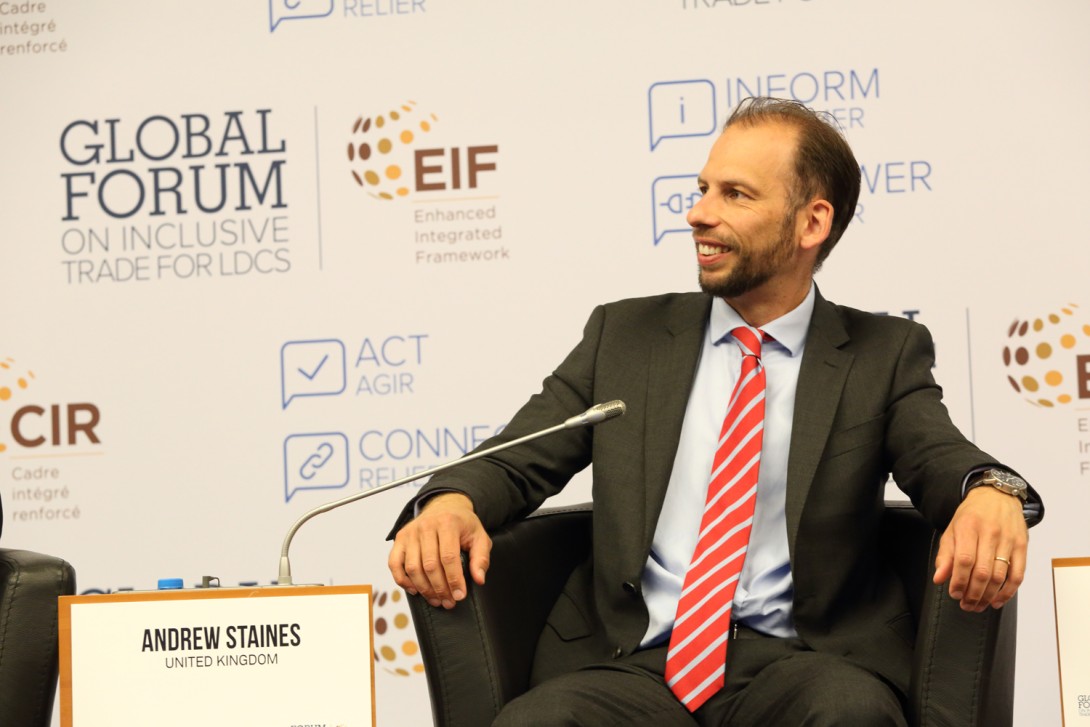 PROGRESSING THE DISCUSSIONS
At the conclusion of the conference, a strong commitment had been shown from LDCs to progress trade opportunities through the signing of a call to action. This recommitted LDC signatories to the SDGs, the Istanbul Programme of Action, and global and multilateral trading systems.
Ratnakar Adhikari, executive director of the Enhanced Integrated Framework, explained that LDCs made a commitment in several areas, including a political will to commit to reform; address issues related to investment to attract more private investment; and address issues related to technology.
"The fact that the agenda of inclusive trade should not be working in a vacuum is an idea that came out clearly."
Ratnakar Adhikari, Executive Director of the Enhanced Integrated FrameworK
Still, more support from the international community is required.
Moving forward, Adhikari sees a range of barriers to market access that need addressing, including improving development technology and services to support growth, as well as engaging better with the private sector.
"This is key to unlocking trade potential," he said. The Enhanced Integrated Framework and its partners needed to be a better advocate for and promote private sector investment in LDCs, he continued.
But he also brought the discussion back to the importance of women, youth, and SMEs.
"The fact that the agenda of inclusive trade should not be working in a vacuum is an idea that came out clearly," Adhikari said.
Progressing trade and economic opportunities for LDCs means providing greater opportunities to the most disadvantaged groups within their borders.
Disclaimer
Any views and opinions expressed on Trade for Development News are those of the author(s), and do not necessarily reflect those of EIF.