A high-level panel at this year's Public Forum examined the link between peace and trade, focusing on the opportunities and challenges that conflict-affected states face in developing their capacities to trade
Originally published by the WTO
The session, moderated by WTO Deputy Director-General Alan Wolff, was organized by the WTO Secretariat, the Executive Secretariat of the Enhanced Integrated Framework, the United Nations Development Programme (UNDP) and the g7+ WTO Accessions Group, a grouping launched at the 11th Ministerial Conference at the end of 2017 and constituting 20 "fragile" states. These countries need to be integrated into the global economy, the panellists stressed, so that they can contribute to and benefit from economic growth. 
Countries that have long been isolated by years of conflict are yet to fully realize their trade potential and reap the benefits, participants highlighted. Thirteen out of 22 governments currently acceding to the WTO are considered "fragile" countries.
In his opening address, H.E. Kay Rala Xanana Gusmão, former President and former Prime Minister of Timor-Leste, stressed that over 1.5 billion of people are suffering as a result of decades of wars and conflicts. "While the world has been increasingly integrated and connected through trade, cooperation and technology," he said, "these fragile post-conflict countries are left out or are the farthest behind. Yet, these countries have the potential to provide the fuel for the economic prosperity of the world."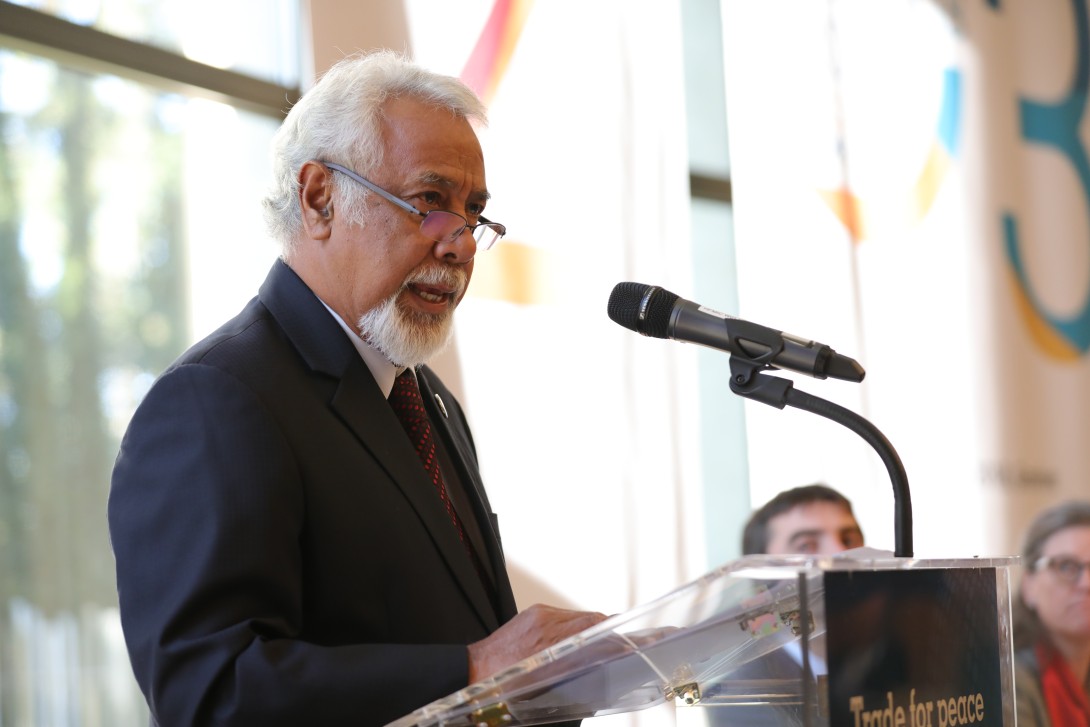 Mr Gusmão said that "trade war" is the current "buzz phrase" among the big economies but for g7+ countries, trade can help them to achieve peace. He called on the richer countries, such as the G20, to do more to help change the current state of affairs, not only by helping fragile states to increase their trading capacity but also by taking greater responsibility for monitoring and tackling illicit outflows and international tax evasion. Mr Gusmão called for multilateral organizations to help build the necessary infrastructure in these countries. His full speech is available here.
Hon. Deng Deng Hoc Yai, Minister of General Education of the Republic of South Sudan, the youngest nation in the world with huge natural resources, stressed that trade is a fundamental pillar of South Sudan's growth strategy. The minister firmly believes that multilateral trade will allow South Sudanese firms to participate in a larger market that offers economies of scale and productivity gains. The country's desire to join the WTO stems from this strong belief. The first step towards realising this desire has been fulfilled, he said, with the establishment of the Working Party on the Accession of South Sudan at the Ministerial Conference in Buenos Aires. His full speech is available here.
Kamila Sidiqi, Afghanistan's Deputy Minister for Commerce, expressed the view that opening to international trade will have a direct positive impact on increasing the country's national income and promoting its efforts to achieve an equitable balance of trade. This will allow Afghanistan to use its resources more efficiently by specializing in the production of the goods and services that the country can produce more cheaply while importing the others. Integrating into the global trade framework will also have a positive effect on Afghanistan's long-term growth since it will give access to more advanced technological inputs available in the global market and enhance incentives for innovation.
Ms Sidiqi said that, as a former entrepreneur and businesswoman in Afghanistan, she strongly believes that trade can contribute to women moving out of unpaid labour in agriculture and into more lucrative sectors such as manufacturing and services. This will increase their income and generate more formal employment opportunities for women. Her full speech is available here.
Ms Maryan Hassan, Chief Negotiator for the Accession of Somalia to the WTO, highlighted that her government is currently undergoing a process of rebranding, engaging with the private sector which understands the potential of what the WTO can do. She also stressed the role of other international organizations in the WTO accession process. "While these mandates touch on issues such as humanitarian disasters and gender-based violence," she said, "they do not encompass everything that a post-conflict country needs. We also require trade experts and economists who can help our economies transition out of war."
Ms Hassan underlined the importance of hiring more Somali nationals within international organizations as they are best placed to understand the struggles that their country faces and can therefore deliver tailored solutions. The Federal Government of Somalia is embodying this philosophy — for example, the Ministry of Planning has set a deadline of January 2019 for all international organizations with Somalia country offices located outside of Somalia to relocate to Somalia. Her full speech is available here.
Sara Sekkenes, Conflict Prevention and Partnerships Advisor at UNDP, underscored the importance of investing in conflict prevention while addressing fragility and conflict and the need for investments to be sustained over a period of time. She highlighted the value of partnerships such as the Aid for Trade initiative and the Enhanced Integrated Framework for least-developed countries because they shine a spotlight on the importance of mainstreaming trade at the national level and galvanizing support for more effective institutional and trade capacity development. The complex and comprehensive reform efforts brought about by acceding to the WTO represent an opportunity to build a policy and regulatory framework that advances inclusive growth and sustainable development. Her full speech is available here.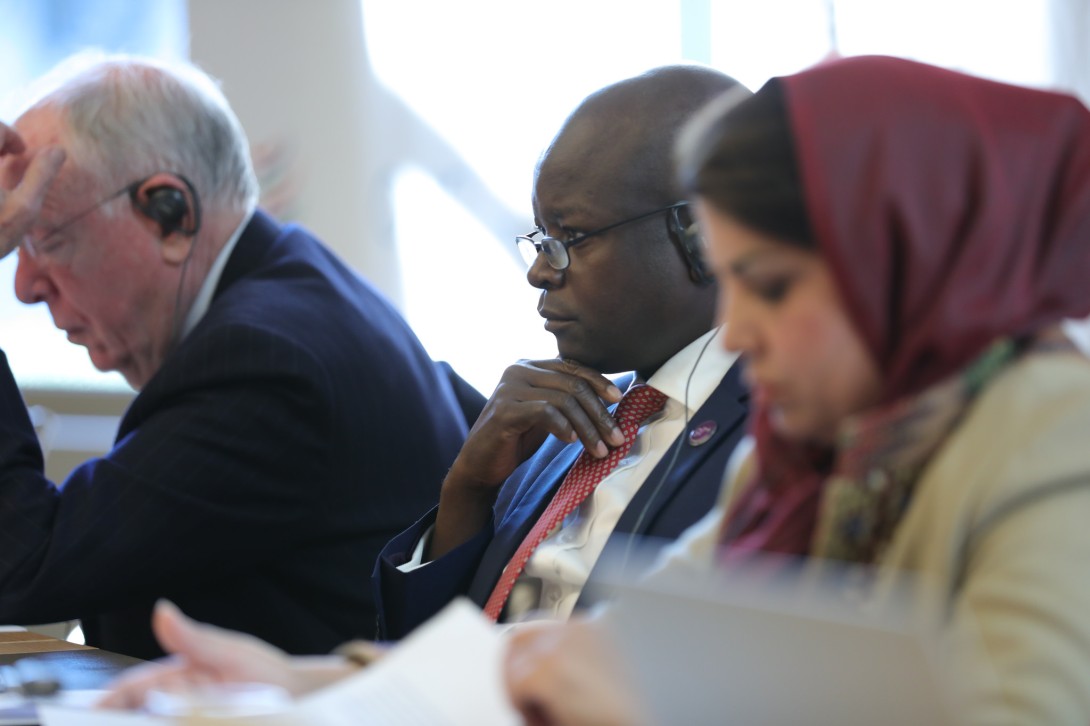 Will Martindale, Director of Policy and Research at the UN Principles for Responsible Investment, an initiative set up by Kofi Annan, said: "Private capital flows dwarf development finance. The World Bank's annual commitment to development is around $50 billion. The United States commits around $30 billion to overseas aid. Meanwhile, every single day, $40 billion is traded on the New York Stock Exchange. Meeting the UN Sustainable Development Goals implies much greater flows of private capital to low-income countries — in particular, SDG 16: Peace, justice and strong institutions."
Mr Martindale recommended that investors should require that their investment companies implement and publish policies in line with international frameworks. Policies should include issues such as tax, recruitment and working conditions, human rights, and ethical and local sourcing. Investors should advocate data collection and monitoring of different policies related to trade. Investors should carry out full risk assessments, he said, before initiating operations in conflict regions that include issues such as human rights, including modern slavery and the environment. His full speech is available here.
"Private capital flows dwarf development finance. The World Bank's annual commitment to development is around billion. The United States commits around billion to overseas aid. Meanwhile, every single day, billion is traded on the New York Stock Exchange."
Will Martindale, Director of Policy and Research at the UN Principles for Responsible Investment
DDG Wolf highlighted that the g7+ contribution to the work of the WTO is what is intrinsically needed for the organization to thrive. Such efforts bring the multilateral trading system closer to meeting the Sustainable Development Goals by 2030.
In conclusion, he reminded the audience that the General Agreement on Tariffs and Trade (GATT) was founded to aid recovery from war and to avoid a repeat of the destructive trade tensions that existed before the Second World War. Europe moved towards a customs union and then a single market to foster peace and growth, he said. That is what many of the currently acceding countries seek — Bosnia-Herzegovina, Serbia, Sudan, South Sudan, Timor Leste, Somalia and Iraq, to name a few. He highlighted that the last two countries to join the WTO were Afghanistan and Liberia, the latter having suffered the consequences of not only war but also disease with the devastating effects of Ebola.
Credits
Header Image - ©The Opte Project via Creative Commons Attribution 2.5 Generic License
Disclaimer
Any views and opinions expressed on Trade for Development News are those of the author(s), and do not necessarily reflect those of EIF.